October 12th,2003 twenty teams of anglers ventured into Mother's brilliant colors. A week of warmed days and cool nights settled into this Columbus day weekend ushering a light South breeze early, finishing with 10-20 West winds late. A Canadian front sweeping the region mid-day with nearly no rain, sunny skies and air temps remaining comfortable in the low 60's. Quite a change from traditional events! Only 24 fish comming to the scales at over 65lbs. The 2.7lb field average proved what fall is known to DO -produce  big green cold fish! So the story goes...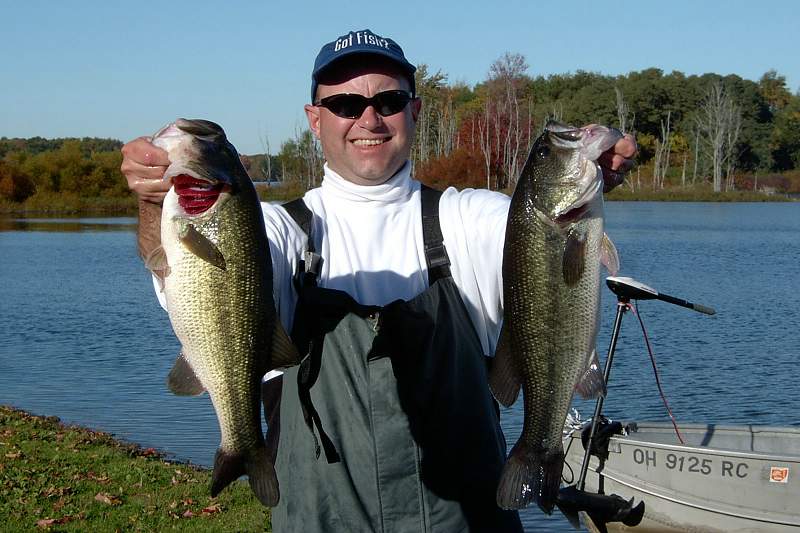 One fish shy of a limit, Rory Franks giving the big bass look! 14.08lbs ending a 2week blank filled dryspell on any waters that smelled me near. Mother hadn't seen me for over a month prior to Friday. Finding a blackn'blue jig
flip
bite in the South end prefishn' the pattern held through till Sunday. Skinny water fish concentrated around willows and weed holes. Five bites- four fish and three toads - with 2nd big bass total pay $434 !!! For the days complete story
click here.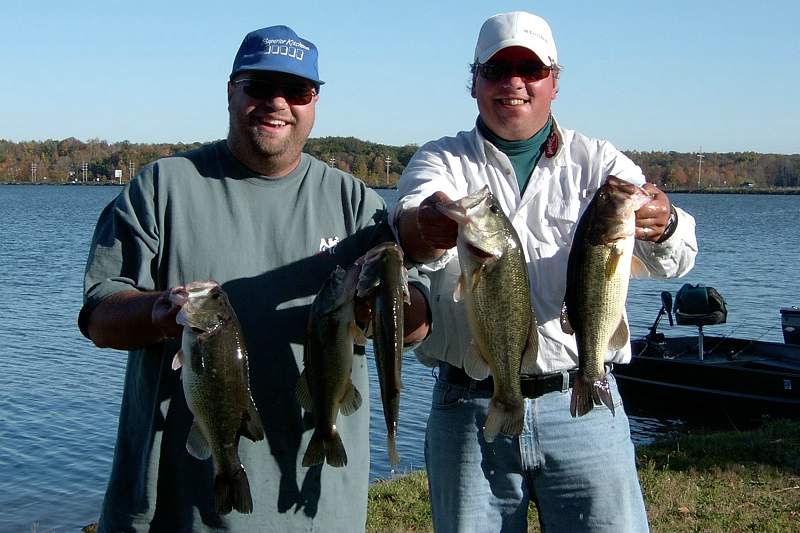 Second place with even better BIG BASS smiles, the team of Tim Wheeler and Dave Pencak. The duo carrying over momentum from a fourth finish in a Tappan lake championship with blue and chorme 1/4 oz rattle traps burned over weeds in Bridge Creek. Five solid fish, the days only limit, at 12.31lbs. Rubbing it in at the ramp the pair catching fish most of the day sorting through smaller fish to find five. They are making regular appearances in the fall watch out for this team in the spring! Total pay- $220.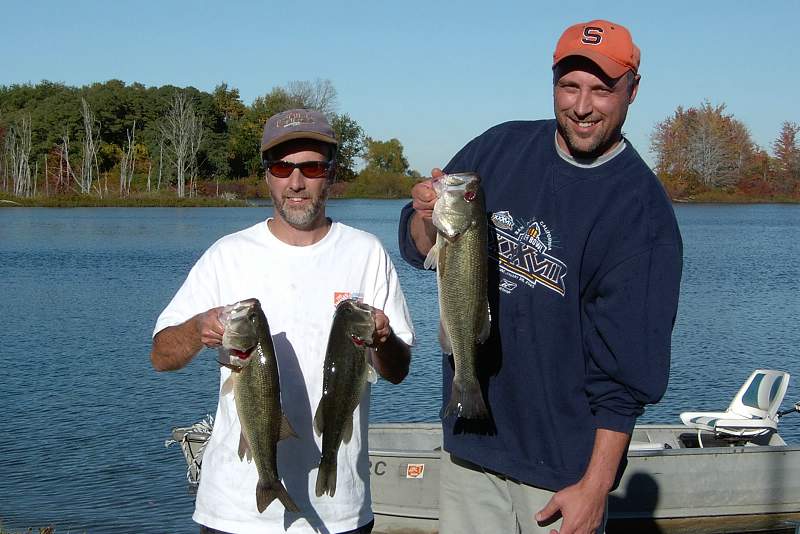 Third place to some familiar faces from earlier in the year, Jay Cobb and Fred Ramski. Three fish in a matter of minutes from the 8 hour day rolling onto some spinnerbait action in the South portion of Mother. Putting these in the well and leaving some back in the drink left the team thristy for just two more. Still some big smiles though despite the proverbial header " That's why it's called fishn' and not catchn'" Great show guys - they'll stay on another day. Total pay- $120.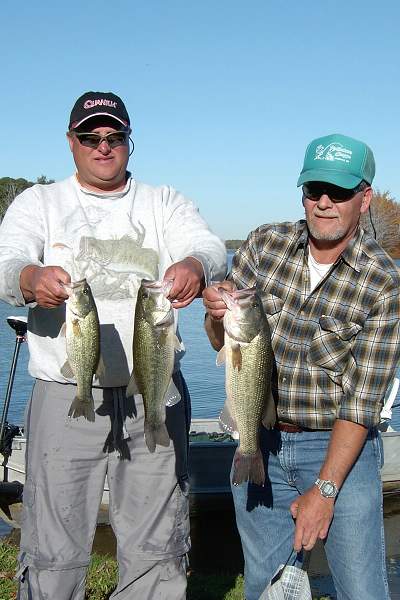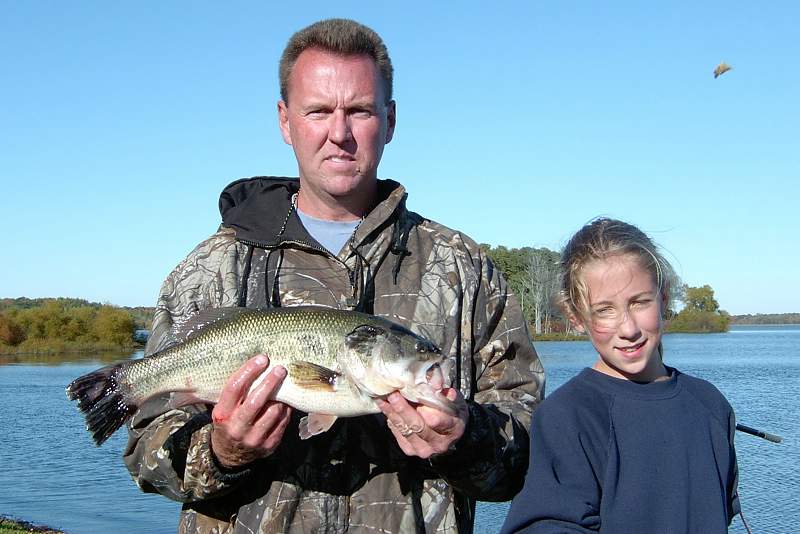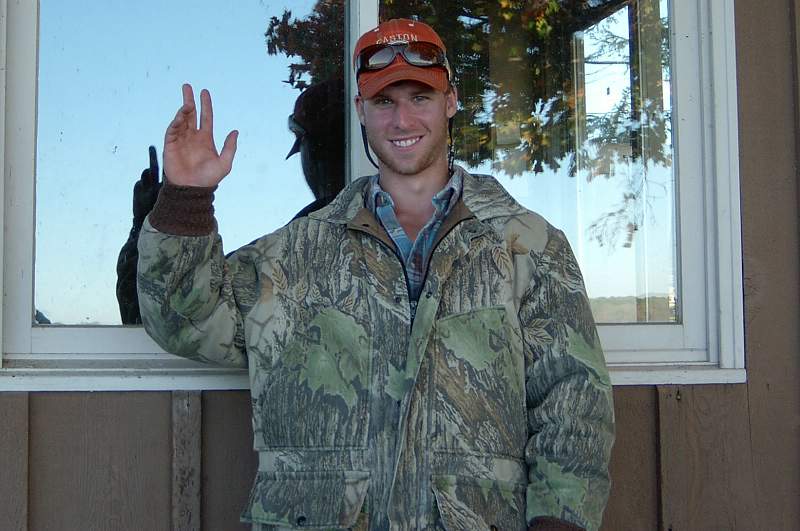 Rounding out the final check in fourth place Garry Reynolds and Rich Snyder with three fish at 7.4lbs. Fishn' here and there and a little of everywhere- buzzbaits, pitchin jigs and looking for those final bites. Come on Richie I see a little grin turned in the corner of that cheek! Hope to have you guys back in '04 ! Good show on a tough day- total pay- $80 .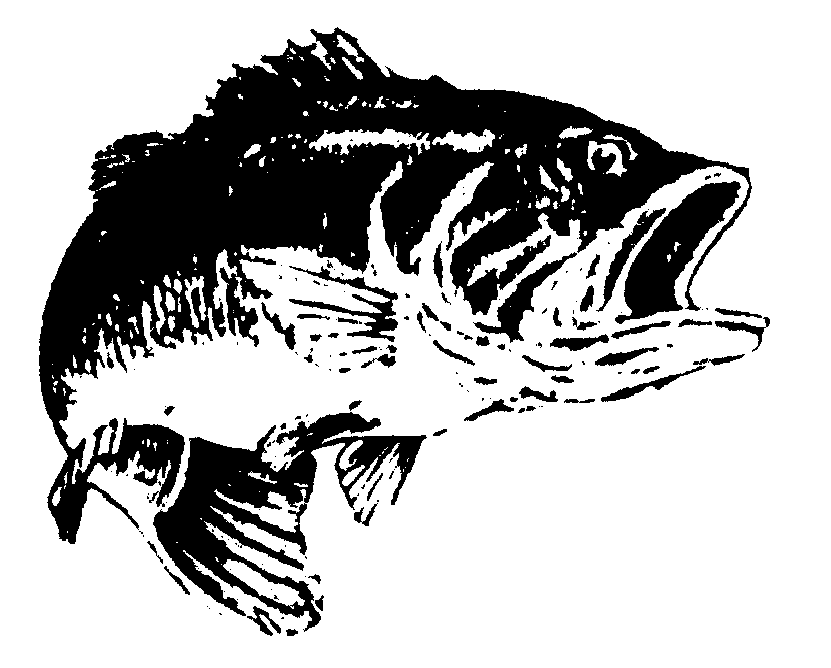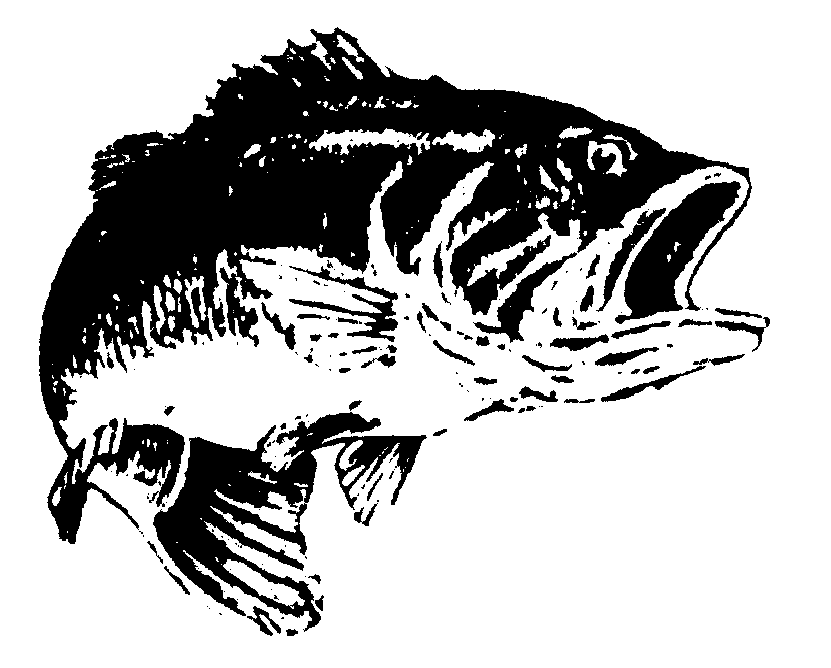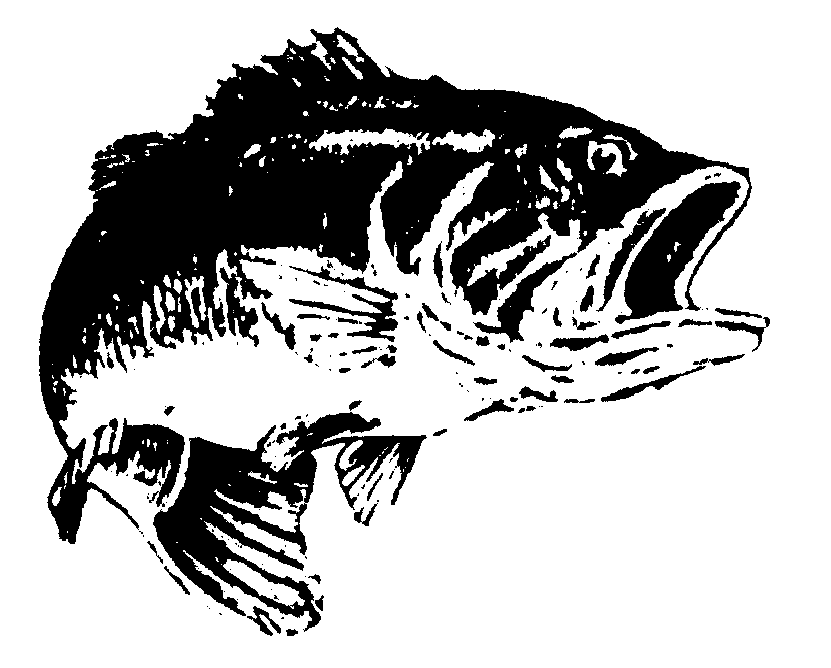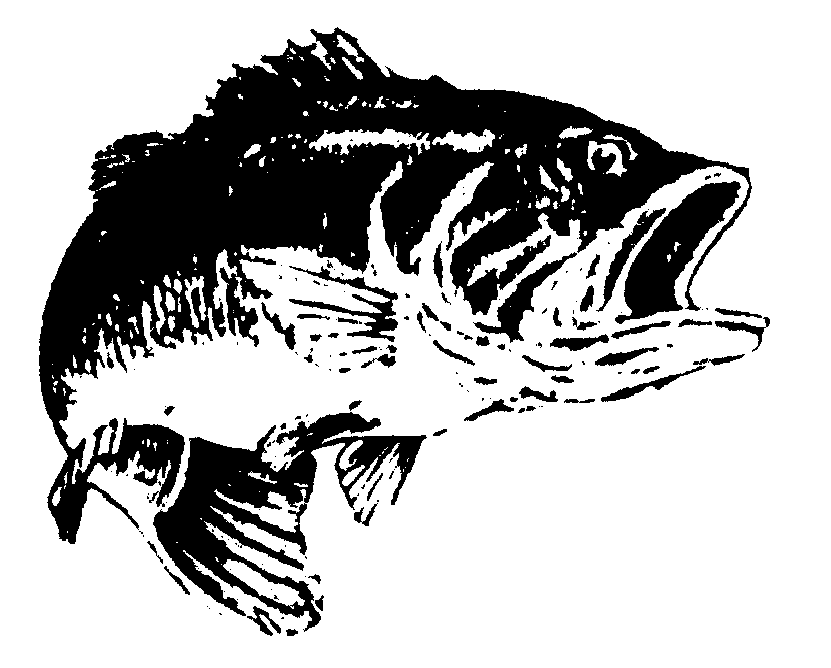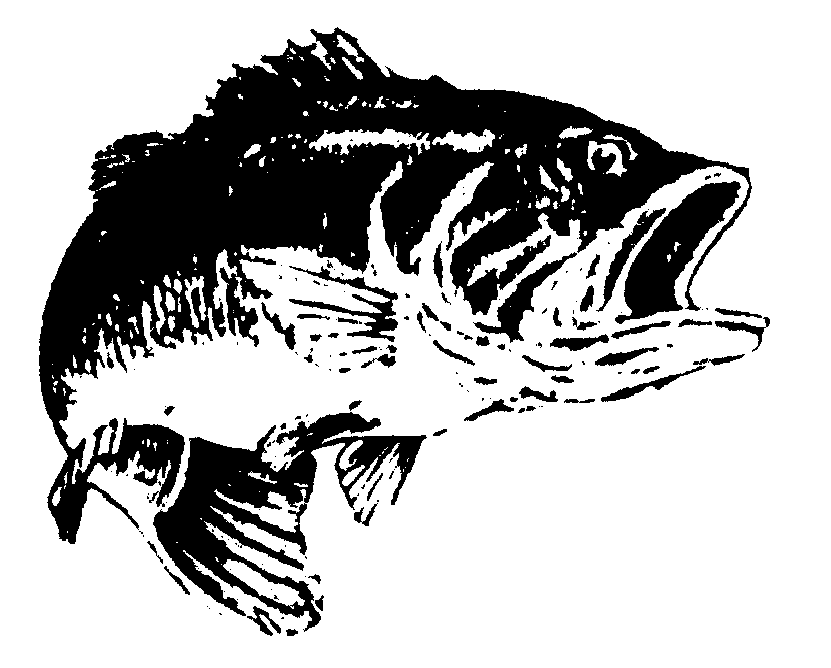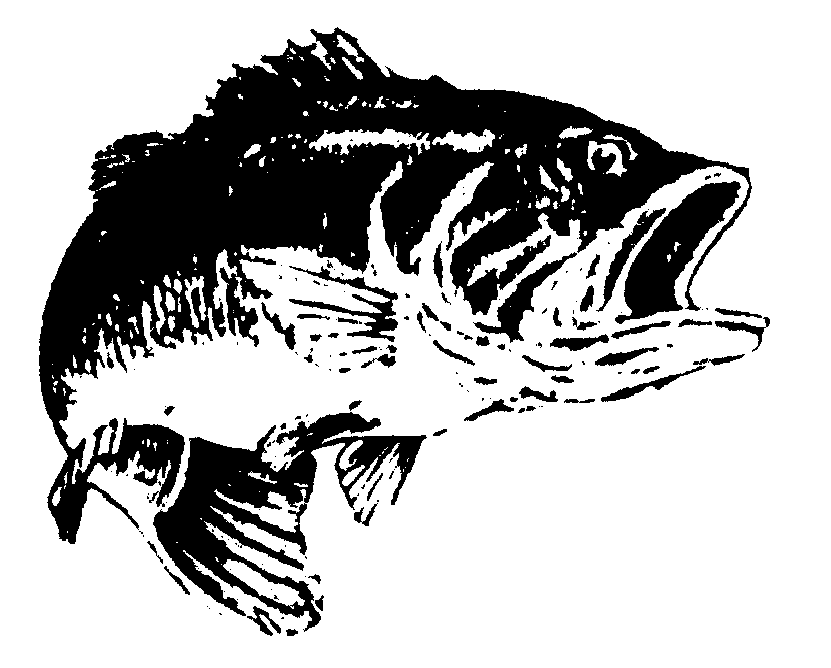 The big basses ( from left to right) the team of David Morris and Mother's daughter's sister, Christa Morris with a deep riprap crankbait big bass at toad weight of 4.93 lbs. Dad is definately teaching these young ladies some finer points of big bass fishn', or is it the other way around !!! Total pay $90.

And finally, a cheery wave goodbye from the better half of the team of Craig and Ryan Kitson with a third big bass show that already swam away upon it's release. Good fishn' again fellas along with a fitting smile and close for the final check in 2003.