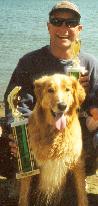 This page dedicated to the best partner in a boat a guy could ever wish for. Jordan never spoke a word and always kept his nose to the water. Here's our first check on our Mother that taught us much in life and fishing. For more info click here
JORDAN.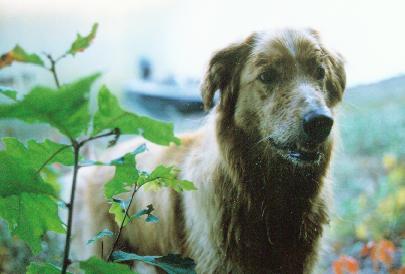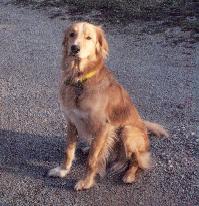 3/31/03 - 2 hrs in the COLD COLD COLD - 1 st fish of the year in the first 10 casts outa  bush in the south side of the 422 willow flat  with 20 mph winds blowing directly on it. Water just a few degrees warmer than freezing. Very happy I bought a new coat this year! Thanks for the warm truck Joe! Not much going on here except an idiot risking his life if he fell in all for a green fish. When it's cold like this- it's silly to fish

4/12/03 - First FBFP event- very very happy with turnout and returns from 2002. As far as fishn' goes- well that was a disappointment- not just for me but many. 4 fish caught total- I didn't even think I got a bite! Worked steady all day and slow- felt good with areas I fished and the way I went about it. If there ever was a time to blank - this is one you could get away with with minmal damge to ego!

4/15/03 - I foresaw the weather ahead and asked for 1/2 day off from real work. I putzed around the garage and yard while the day just got nicer. Thinking of all that still had to be done I put it off and went out for what I figured to be a slugfest- they have to be up by now. Not so! Wind was s-sw 30+ and sent me home within 2 hrs to finish up what I started that really should be priority over fishing right now- head out of the game. Good choice. Got much done and more prepped for the weeks ahead with the coming spawn- more now- less later!!!

4/26/03 - Wow! How excited I was to be only 3 teams from a full field! I didn't mind waiting to fish and just wanted to make sure I had things together in the truck prior to hitting the lake myself. I could feel it in my bones- the moring was perrrrrrfect and I was in tune. I never imagined what would happen though. By 6:50 I went to my first spot. First casts I had some nasty line that need pulled and wanted to put my shades on for the polarized effects. I laid my rod under my shoe and as I unzipped my pocket I felt and saw my rod bending- first cast and a super "dumb" fish of 3.5 lbs!!! Holly crap! They must be "on" I thought. Second cast- smack - a 14" keep - 5th cast - a courtesy - 10th cast ( which was also an OIT by this time, I knew I was going to catch this fish before it happened!) Thud and my line went screaming to the boat. My enemy tells me it was one of those 5+ that kept swimming by the boat when my hook came out - reality it was probally a solid 4!!! My heart thumped and with each cast I was in the zone- 2 more keep bites- 2 more losses- agony- but hey - it was less than 30 minutes into the event!!!! I held steady for the next 8 hrs only to mis yet one more TOAD around 2pm. Never saw him- but the feel almost leads me to believe it was one of those crazy big fish or simply a desperate carp! I'm fine with the finish- still aiming to points chmps with mid-eighties points- the best though was watching the toadfest at the scales- one buddy with a 6lbr- another with a limit of smallies- how I love my mother. Engler is predicting May10th to be the slugfest. I'd better get my spinnerbiats geared up then!!!! Peace out- Nip

5/10/03- Qualifier #2. Today I did it. I removed my enemy 100% and "won". It used to I could have all my bugs worked out of my fishn' within the first three weeks or so of the season. Back then I was fishn' 5-7 days a week. I think I have been out no more than 15 times this entire year. Most of those times have been spent for 8 hrs or less and mostly tourney fishn'. Gettn' out for a full day (12-15hrs) and doing it consistantly is where you can become at your best. Those are the times I can get intune with whats going on and feel a part of natural process. I have been trying last year and especially in early 2003 to rely on past experiences (everywhere I have fished) as opposed to having the time to really "get in tune" with where things are at in nature. As I said above I "won" today. I won in the fact I beat myself and the fish, something I haven't done this year. Crazier is I was one short of a limit and only fell in the top 10. I still won. I finally put my soul at ease and not just spoke the words, but put my thoughts into practice. I keep telling myself all year "You arent fishn against the other anglers- you are fishn against yourself and the fish" Despite my chanting- I have been fishing against others. Today I let it go. That pit in my stomach, that gut wrenching feeling when you watch others rip out fish, especially right in the first part of the morning! After boating two courtesy fish by 10am I made the choice to head out of an area that I know offers the potential to win with just 5 casts at any given time during the day this time of year. I wasn't willing to force myself to fish a tournament. I wanted instead to fish with my heart. I did something too I haven't done for sometime. Ask any fishn' partner I have ever had in recent years and they tell you how often I go out of the way to "clean" the lake. I'll take 15 minutes to push back into an area to pull out a plastic bag. I started doing this 5 years ago ( this is a whole 'nother story, maybe I'll tell it sometime). The short version is it has turned into a confidence thing for me, besides just a desire to do what little one guy can do to make the lake cleaner. All spring I had been picking up the easy stuff but unwilling to take additional time to pull out the things that really matter. Mostly because I have been mind set into this "time" variable. Eight hrs to fish and I am trying to make the most out of it by keeping it wet. Mother has sensed my true intetnions and hasn't allowed me to partake in her magic because of this. My true intentions were " to beat the field" -"make more casts per minute". I had forotten what has brought me to my level in my quest and was starting to regress as so many tournament anglers do. I have been turning into a "tournament angler". Today I went back to my roots with the move up into Bridge creek. I opened my heart to nature. I breathed the fresh air. I listened to the redwinged blackbirds. I felt the warm air on my skin. I smelled the new spring water. I quietly watched a set of goslings be led by their parents.I loaded the boat full of every single piece of garbage I came accross. It gave me confidence like I haven't had this entire year> It positoned my boat in places I never would've been in otherwise> It allowed me to watch a beaver build it's home> It made me follow those geese into a small cut> It reminded me of my duties as a human, a part of the sphere of life> It showed me a crawdad poised on a rock near the bank> It pointed a bend in a tree that I thought was pointless to fish otherwise> It guided me to a current of water from a previously unknown spring> It enhanced my understanding of the varying clarity of water found within just inches of two different types of vegitation. Each and everyone of these examples of what resulted from me picking up trash I hadn't been because of "tournament time" led to my removal of my enemy today. I wiped out the enemy inside and became one with what nature was doing around me. I very well only actually fished for 1.5hrs out of the 3 as I did this - but I also boated 11 fish. Each and everyone was 13.75-14.25 inches. It was almost as if Mother told me- " you have returned, glad to have you back- don't take me for granted again, it's not that easy to welcome you with open arms". I saved a 20" piece of linewith a lead 3/4 oz. sinker and rusty hook I pulled from the very bottom of a tree in the last 20 minutes of a tournament last year, having thrown it in the bottom of boat storage and not giving it much thought ever after. It took me nearly 10 minutes to get my boat in to get that line and then get out- leaving less time for final casts and one fish from a limit. As I pulled out from the tree on a side that I never would've put my boat into, I laid the first cast out - I hit a 3.5 and then culled another with a 3 in near back to back casts to make it in the money. I saved that thing in order to never forget how important that was. I didn't really know what happened to it other than having thrown it in a mess of stuff in my garage at the end of the year. Today when I returned home, I pulled out a towel from storage- that sinker,line and rusty hook fell onto the middle of the garage floor.

5/11 & 5/13 -- Kinda putting these two dates together for memories sake as it's been a while since they actually happened. I went beck the day after the last tournament though, something I used to do in many events I fished. time simply doesn't allow this anymore hardly. I have found it one of the best things to do regardles of the previous days outcomes. It can really make you rethink the mistakes from the day previously and help with your future fishn'. Anyhow... the plan was run straight back to the river and try to enter myself back into that zone with mother. Mother had it differnt though as she was WINDY and blowing right down the creek. Wind is cool don't get me wrong, but not today in the 12 ftr. I ended up putting in at the boathouse and fished cattails, something I often refrain fom doing on lado in tournaments.Don't quote me on the numbers but I did well despite the challenge to keep the boat positioned due to the wind. the water was dirt muddy and high fitting my approach to a tee. I had several fish and a few quality fish, as well, a new clue for the next tournament. I was so pumped about my earthly experience on 5/10 and not being able to do it on 5/11 i went back on 5/13. This time right into the river I went. I didn't catch squat if I remember correctly but still was pleased to warm the soul with the untapped beauty in the back. I tried different areas this time too helping further eliminate that water upon subsequent returns. I'm sure it wont stop me completely though!!!!

5/31/03- Here we go again. Rain, storms possbly, cold- what more could I ever ask for. If I ever have a tournament or a vacation day anymore it seems to be pretty consistent. Inclement weather. Having to overcome fears of someone getting hurt the morning started out semi decent given the nature of the forcast. The winds kinda starting picking up and the rain came... and never left. No lightning though!!! my first deeper spots yielded an urge for a deep bite and that was about it. I decided to play out the weather nearby and moved into the willow flats. I went on outside edges for a while with not much more than a couple of missed fish. I saw a boat up front and decided to stay away from them and litterally buried myself into the green about 30 yards deep. The water was high and in the back of things very clear. I wasn't to optimistic but wanted to steer from a crowd. As I pitched around I started immediately getting bit. A dink here and a buck there. Now I felt like there might be something to this. The next clearing after removing the bugs from my head proved the same. By this time the boat in front was sitting steady in a cove and I sprawled out 75 yards in front after inquiring if I'd cut them off. They were fine with it and by now I exited the willow area and into cattails. My prefishn' experience a couple of weeks prior helped me gain confidence in this type of cover and I again skipped the outside and pushed through into their banks. Wack- a keeper by a bush. Wack another keeper by a bush. Now I was onto somethin. Way back into the messes, wood in cattails. I ventured on up and pushed it to the limit. By this time I was throwing into water less than 4" deep but if it had wood- bam they were there, and flat out everywhere. I hit a limit by 1030 and worked a bigger fish into the boat around this time. It never let up. If I could get as far back as possible and there was a tree or any kinda submergent wood for that matter, around cattails, I'd catch a fish. Mostly shorts, but as the bigger fish had told, they were there too. I did this all day in a variety of similar areas. I never realized just how many cattails there was on lado until I started fishn them hard today! Fish were almost always there regardless of the area of the lake. I didn't miss anything worth crying about and caught somewhere around 30 fish most between 13.5 and 14". I couldve probally culled out a hundredth here and there but kept the ones that were most clear on the rule length wise. The last thing I need is a limit of squeakers to get everyone in a bunch about the director's short fish! 6th place and a third big bass put me in the money for the first time in 2003. Points are tight and my bite is near- look out the 21st!!!!

6/17/03 - For the first time Iup to date with my fishn diary on the do! I spent 12 hrs on her Tuesday with 11 rods in the 12 ftr. I threw about everything. I had been up to this time hearing of the wonderous success on mom's humps. I was too tied up though on Berlin trying to save my grace that I put her in hindsight. Some strategy too though as I'd prefer to not have everyone looking at me on my mental GPS holes. I started where else but deep. Not a tap. I gently moved into the river catching approximately 10 fish on a freakn spinnerbait. Yeah I know I dont throw those- well boys after three hard weeks on Berlin I'm sold. The mindless bait faired me well and I have the right gear finally for my special approach to this stupid way to fish! The spinnerbait fish arent winners though but hopefully a limit early on. Several topwater guys could also trounce the field in my eyes as there is just soooooo much water for this time of year. The vegitation is also thick and green under the banks. My topwater results were downright fantastic, almost unbelieveable for a day on any water. I'm reluctant to go into it though as this final event could make or break points. I will say this. My newfound way of hog pickn on our mother is downright scary and could mess me up from the original game plan. Was it just a fluke this day or are numbers of BIG fish really holding where they just shouldn't be according to memory and past experience. They really were on Tuesday!!! I crigged and cranked the rest of the day, not to mention some flipping action. The skinny bite is strange too- but successful!!! I saw two of the fish I hit- threw right at them and they were all over it, not a bit scared. Both added 4lbs each to an already successful day. As the rain continued ( I had a vacation day mind you) I couldn't help to think what if it's sunny and warm. NAhhhhhh- that just wouldn't be right! Right now as it sits I'm torn. This "practice" day may have hurt me as much as help. I have had this problem lately in life.... wanting to be two places at the same time. At home with family, or on the lake. Prefishn Berlin,or slamming them on the do humps. Under the bridges, or in the willows. Mowing the yard, or cleaning the fishtank. I think if I have gained anything from today it is the following and goes back to rule #1. Stick to the game plan. There will be many fish caught on June 21, the person who wins will have stayed with one thing all day and not deviate from that. Versatility on this kinda bite and this high of water will work against you due to time spent running. Now I just gotta make up my mind on what to commit to! Chances are I'll still bring over 10 rods. If I win, I bet I make myself not use more than two of them!!! Choices!!!! AHHHHHHHHHHH!

6/21/03 - Welp- I did exactly what I wanted to do. this time I think though the "stick with the game plan hurt my fishing rather than help it. I made my run (kinda in circles eraly on as my sterring control on the transom mount broke!) with 4 stops along the way. I was pleased with my ability to change gears four times over and fish four totally seperate patterns. I was looking at specific spots to give me an early points fish in order to fish comfortably all day. Stop one with a scum frog on some vegitation first part of the river- nada except some conversation with company I expected as essentially it was my old partners spot- Jeff Pelc. Stop two a row of wood laydowns with my new found friend the crappie spinnerbait- no takers. Stop three was actually three spots- three full grown trees buried in the water. They generally are almost always a give me fish whether a keeper or not.I flipped slow and fast shake and bounce- swim and sit- agan not a tap. No problem my best spot was for last. Under Auburn rd and one last flippn spot- nada. Now for the mainstay I could go. Midway back there was a patch of scum as big as a Ford flatbed truck. It was the only area I hit fish in prefish and the depths told me why. This was my cotton candy- my main hole. Pulled up easy with the scum frog and worked a few casts into the area- no takers. Just where I figured another monster like the previous days prior rushed my bait from the thick mess. Swing and a miss. Second cast- hit again- swing and a miss. Third cast he drilled it I hit him good giving some pause with anticipation. I dredged him for 2 seconds and pulled off. My Lakes trail partner Ken Begue and his partner for the day Mike was back there and saw the whole thing. A few casts later I hit a 12"er within 15 feet of the spot. Around 10 casts later I hit a 2lbr and it was munching. Great I thought- me and Ken #1 and #2 for the day this will happen. They had moved to the center of the mess by this time and patiently watched me gather my livewell for the keeping. I worked on up allthe way without another bite. I went into the river to the very head drilling key spots with a spimmerbait that my prefishn told me to do. I had several peek and taste grabs onto the skirt and could tell they just weren't going to do it. I went back to the scum and worked it over again dreaming of hat was happening out on Mothers Humps. by 9:30 or so I couldn't take it anymore and made the run back into the main lake North. I stopped in route to the trees flipped and again nothing. I started to go to one last mainstay and saw a boat on it and just kept running. One final riprap area for 20 minutes slow and steady with a tube and it was time to hit the humps. I pulled to a main lake area by 11:30 and sat there crigging and cranking for over an hour. Bending down periodically to make others nearby think I was on em'! That can put a lump in the throat of many humpers making them think their hump sucks and yours is hott!!!! I got crowded and pulled out for sacrafice sake and sanity and went to the willow flat. Flippn outside weeds and "smack"  a good one. I hit it hard and felt a slow pul to theside and my rod was litterally triple. Suddenly a 10" fish popped from behind the greens and 15 feet over the side of the boat. Just a weed. I ran back to the hump and sat patient till near the end. Moving in poor directions to lead off others from prefishn and the championship! Another strategic move. I was happy with one fish points and move onward. I tried some final flippn spots that I had not visited in over a month. The were grown over and not very condusive to this presentation. Wound it in and called it for the day. Great year- awesome group of guys AND NO PROBS THIS YEAR!!!! Amen!

6/22/03- heres a short one . Fish every hump I know from mid afternoon till evening. Ran into them good on a couple of spots. Made me feel like I knew what I was doing again. The sun came out yesterday during the weighin and never left putting loads of fish right where they belong and they were HUNGRY. Competition was slow too made for nice enjoyable fishn' Hit somewhere over 20 fish and many between 3-4 plus pounds. Just a day late on the weather and the weighin coulda been one of them days for all. Good smallies from rip rap too!

6/24/03- Just couldnt resist another day like Sunday. Made it out with my oldest boy around 6pm. Fished till near 9pm. Saw Galewoods leaving and they gave great report from earlier in day. made me anxious. Took RC1 (oldest) out this time last year and he caught his biggest bass over 4lbs- also his first big fish to reel in! We were pumped and he is a year older- has the casting down for only age 3! We worked several areas sticking around main lake areas all night. Not a bump or a tap. he had a blast though and commented about the evening all night. Almost better than catching them like on Sunday!!!!

7/5&6/03- Summer is here!!! Mother's humps are on!!! Only two days to "practice" for the championship next week then the off limits. It was almost scary fishing these two days as it was very hard to stay off every place I wanted to fishin the championship. Nearly every hump I pulled to I caught 3-8 fish right off the bat on both days. I managed nearly mid teens for numbers both days but was somewhat disappointed with sizes . Experience of the past has my hopes set for ripping 30-50 fish off a single hump and finding several fish between 4-6 pounds during this time. When they first pull out like they apparently had this two days I figured it would be that way. Pressure from anglers has obviously impacted these spots though and they simply don't have the time to stack like years prior when few boats were ever seen near these areas. I figured that if I could go through one big fish per hump/point on July 12th I could hit the 20lb mark. I hoped to limit with one hump then move on the rest of the day. Prefishn day one I had between 14-15lbs top 5 second day between 13-14lbs - I also lost two fish ell into the 5 class - cull out the 16"ers on day two with these dudes and I was at nearly 20. I figured a 3.5 avg to get into the money as many well versed humpers are now in the series. laying with it would be critical as well as having some "virgin" humps available during the day. If 10 anglers fished out 10 humps it could be dowright challenging to get a limit. Game plan then was to simply sit on my closet thing going in the morning and be patient to get a limit. Also notable was my inability to get the bigger fish on crankn'. They are there- they just arent anywhere near the feeding activity as smaller fish. Crigs would be the plan for the weight. Water is high and temps not even touching the 80's even at HOD. This I believe to also impact the crankn bite.

7/12/03- championship- stuckw ith the game plan and went straight to "Jordans" hump. Had some competition but courtesy was showed as I first had set up on the area. By 630 I was starting to question things as my prefishn showed me if they are there it would be instant- if not it most likely would not be like past years where they would eventually move in. Just as soon as competition had went out of site to another area I hit my first fish- later known as a 4.3lbr. The next two casts were back to back 16"er+. Three fish in the well and a good kicker. I sat up the area the little more precise slowed down and worked every single inch while continuing to question if I should run to the next hump. I knew if I left Jordans area I would give it up for the rest of the day as others were in the shadows. I kept thinking about other areas and who might be there to spoil my long drive. If I rolled the dice on a move not only would I give up Jordan but potentially run out of humps that were unfished. Most any other lake I could care less to fish behind someone- at Mother's humps though it can break you- especially after last weekends prefishn told me. I stuck with the game plan and stayed on Jordan. I named this area Jordan as so many times I would fish the area without success then take my parter to the nearby point for a pee break and run intot the woods. Almost always upon our return the fish would be there loaded and red hott. This was also the first hump I ever found the magic that existed on Mother. It was here several years ago I made a commitment to go forward with my quest. Anyhow.... the magic came to Jordans hump in the form of two more back to back fish- a 15"er and a sister 16"er. It was 9am or so and I really wanted to leave but after thought I knew that at any moment now they could really turn on. I stuck it out comfortably with a limit until 11 or so without a bite- Time to move onward for bigger fish. The wind shifted more to the west-southwest signaling potential changes on other areas of the lake. I moved North and worked several humps that my confidence soared in. Not a tap the rest of the day. I really figured there was no way I was in the money with 12-13lbs and was pleased to make a mark of 5 fish as to not discredit my abilities at this time of year! lol - Low and behold others struggled during the day to find the final fish for a limit or a kicker to a limit. Second place and a close to the qualifying season for 2003. I was going on vacation this week coming and planned the whole year to live on Mother after the championship after the pressure was gone !!!

7/17,18 &20/03 - My vacation plan kinda turned a little as other waters and my boys called to go fishing at times I had planned ot be on Mother. I fished long on the 17th with minimal success. Humpe were dry - I did catch 3 for the day one being the second biggest largemouth of my life that I have actually weighed - it was 22.5" by nearly 19" girth on handhelds it was exactly 7lbs. The next day was a little better with a stretch of some decent fish while fishing with Joe Engler and exchanging war stories. He goton them and I pulled up behind him to catch the big ones!!! Nothing to jump up and down about like the past years though. The final day of my vacation I was simply beat and unwilling to stick out the inactivity. Mother can change as quick as the wind blows and a blanked day can turn into the best day of the year quick- I had just spent 9 days ont he water traveled over 600 miles locally during the week - and yes the damn yard needed mowed!!!! I tucked tail and returned home. I did get reports from two seperate anlgers of hitting single fish in the am both over 6lbs- the were credible with their size reports too- interesting that bigger fish are alreay moving into fall patterns- hint- hmmmmmmmmm. Bottom line is I blanked for the day- but I still went home having learned something from others and will be regeared up for some early fall fishing on the next trip!!!!

The month of August 2003 and summer open 8/31/03 -- Time again is trouncing on any plans to keep updated my thoughts and magical experiences on mother. It seems near impossible to regularly document the few outings I made at this time and still manage family and fishing. Makes me sick to think of the time I spent just laying around bored as a kid!!! Anyhow... I made it to Mother just a couple of trips during the month of August as I have explored new waters elsewhere and tried to fancy up techniques on troublesome Berlin. The high water everywhere this year has been quite the challenge as there are so many options for movements of fish opposed to traditional drawdowns that group numbers tight. Lado is no different. By this time in the year on Mother I find myself usually pitchn large tubes tights to rocks and spot hitting humps for small pods of fish still gathering for remarkable feeds. 2003 the shoreline remained covered with water way behind  the spring pool banks. The little time on Mother during this month showed me that indeed fish were along the shore and in the mess of things in water as little as the proverbial "6 inches". Interestingly the shorelines I found most successful were nearly identical to traditional spawning areas where fish seemingly make their first moves into early in the year. By months end much of the vegitation had decayed leaving the water stained perfectly and holes filled in with large fish. My practices before the event yielded quality fish shallow as well as deep-- along with just a single fish or two on occassion! I love a skinny bite though and if I can manage average weights with a power presentation like pitchn I would much rather prefer to load the boat that way. When tournament day came though I couldnt stand the toughts of missing out on potential fish in deeper water as fish over the 5lb mark could be common- at least one or two to add to any flipping bag. I started the day on Jordans hump and drug water for nearly an hour. The feel just wasn't right and historically a morning hump bite is pretty rare. I moved on to the dam and worked a few areas again to no avail. I was pretty down on myself after 10 am with not a tap. I decided to stay steady and pitch as far as I could down the west shore until 1pm when I would move back to Jordan's hump and give it a hailmary. As I approached areas that I knew where deeper holes along the shore I drug a 7" powerbait worm up and down the weedlines in hope of fall patterns possibly emerging. I hadnt done this at all in my fishing yet this year on Mother and was uncertain if the high levels of water would effect a change in traditional migrations. By 1030 I had hit two keepers flipping and struck out at hole number one. I moved on down the bank making tremendous numbers of pitches per minute doing a good job of putting my bait right where I wanted it to be and doing it quietly. I let it sit for no more than 5 seconds in each spot hoping for a tug from any active fish picking apart certain areas by letting my small boat ride into willow branches and sit momentarially. It was a rhythm that around here only gets felt in the spring and what a good feeling it was. I wasn't getting bit thoug but confidence was soaring. I moved in the next hole further down south. I pulled out the worm and hopped it about- SLAM- I didnt get to see what the hookset resulted in for nearly 30 seconds as a fish pulled me around like a feather on the water. My worming rod is significantly lighter in action and lb test line and horsing a fish could be distaster. What seemed an eternity resulted in a 4+lber leaping back flips once she came to surface. I bowed my rod deep in the water and on subsequent jumps three or four times I could tell she was coming into the boat. My little light wire hook sat steady in the first half inch of the tough part of her upper lip and aboard she came. As my knees shook I pulled the boat out and retied a new hook after tearing off 10 ft of line that was frayed from the fight. A new worm on and back into position my second cast to nearly the same spot gave a "tick" and my line to the boat. a similar dramatic fight and a 3.5lbr on board! One fish to go! I fished the hole thoroughly with no other takers and moved back in form with the pitchin. Then it started like clockwork. Fish after fish. I culled several times moving up a inch on each fish here and there. It was to a point that the OIT's were happening. I could see a small stickup or patch of weeds and just know I was going to get bit. Being in the zone like that leaves one's heart warm. I had managed a limit around noon to leave me with just two fish around 15-16" to be culled out. As I turned a small cut I entered an area that in the spring holds plain old toads. As I lifted my bait from under a line of bushes with red shoots coming off willows I watched another 3+ fish rise to the surface and turn onto my cast. Wack and in she came. I figured by now that even the humpers might have it tough to beat the average fish I found skinny and figured it prudent to once again work up the west shore and try the holes again attempting to get my smallest fish culled. I good strategic movebased on the last  3hrs but it just never showed itself. 5 fish over 16lbs- there is no other but our Mother!!!!  I did go back to following day and remarkably hit 4 or so within the same areas that were between 2-3lbs- the bite was slower though and the holes were dry. Is it really September around here!???? I would swear it was more like late April!!!!   

9/1/03- Went back out to Mother the day after the event- played the same game plan as day before and put some other traditional spring flip spots with it. Not nearly the weight as the event but definately decent fish. The new spots gave up zero and the same areas I had hit fish were again there. Kinda nice to know for the memory banks! It's interesting to see how fish movements occur and whether you just dumbed into some or if it is the real thing and they are there for a reason. Wish I could figure out the reason- but they were there!!!!!

10/10,12,13/03- The last few weeks of fishing have been horrible for me. I hadn't hit Mother in over a month as I again have been caught up in the moment of other waters and focusing on end of the year events. I just as well had sat in my bathtub with a rubber duck. So often I forget what I had always told myself in the past. That being how can you expect to catch fish without catching them. Thats a very true statement. Goofy but true. Once a fish does bump into your line if you haven't caught one in a while you can either forget how to put them in the boat or be so excited about the event you just blow it. As well there is no momentum. I can't tell you how many times I have carried over the way I was fishing at a totally different set of waters and doing well then do the exact same thing wherever I am currently fishn. The only momnetum I have had has been blanking. Not just a little- but consistantly. It's eating my mind and destroying any ego I have developed- which is indeed necessary to perform at a consistant level. If you think you are going out there and not going to catch anything- or not going to win- generally you won't. I had been soul searching, second guessing every move and presentation and letting my enemy dive deep into my skin eating me like a cancer. I have always prided myself forbeing able to get bit on a tough bite. This year my fishn has not been the case. I have totally blown every championship thisyear- not just a little or by loosing fish- but by not even getting a bite inmost cases. I am dazed and confused and ready to pull out the boat for sale sign! But the long awaited day off had come and it was a date with Mother- all day. I missed her and the confidence she can give me. I got there around 430am and went to several areas up North that I always fish in the fall. Reluctant to hook into anything as the event was only two days away, I overshadowed those fears with the mindset that I needed badly to feel some on the line! By 8am or so I hadn't a tap. I started thinking this is just how it's going to be. I was in a rut and even Mother wasn't going to help me. I decided to do something different. Get away from what I already knew on the water and teach myself something new. I moved down South and decided to make myself FLIP all day. I usually throw in a flip or two from time to time as I pitch quite often. Nothing ever consistant nor practical- just trying to allow myself to get the feel of it. I really didn't like it honestly. I often end up looking like a little girl trying to throw a ball for the first time. I picked up a rod that already had a jig rigged on it for my partner while at Tappan. The line was light and it wasn't really set up for pitchn' but what the heck. I was too lazy and noncommital to really follow through with it all day anyhow. I started swinging it out like a pendulum and sat the boat steady in the middle of a willow tree. I was surprised at how fluid I was feeling with dropping the bait in each and every little hole in the small area. I finally put it right up against the base of the tree and my line went under the boat. RIP and the stinging noise of line screaching through the water went straight back into the tree, around the tree , into my trolling motor and back into a branch on the willow. Ocassionally I could see a huge silver flash in the murky water. I jammed my little boat into the mess and stuck my hand into the water pulling out a 21" fish. That moment changed everything that had happened the past three weeks. I put the jig onto real gear with 25lb test line and starting slowly creeping down the bank dropping my little jig like Denny Brauer into every nook and cranny. I quickly boated another 16"er and pulled out of the area going back North and fishing areas I have never touched before. I was getting in tune with the whole flipping thing and felt like I had done it forever. I managed a coulple of smaller fish 12-14" and missed two. I pulled into the willow flats and smacked another 19" right where there should always be one. It too grabbing the jig and running directly towards me under the boat. It seemed much cooler and less inclined to fight. By this time I had kinda put things together too- every fish was on an inside line of weeds and there had to be a willow nearby. I moved further North and put the willow and weed theory together rounding out another 20"er , 3 more 16"'s and a couple of smaller fish.I pitched along the way proving they just wanted nothing to do with it in that fashion. It had to be quietly dropped and fall straight down slowly. I didn't let the lure sit in a spot for more than hitting the bottom below it. They either were on it immediately or not there. I was pumped and very pleased to have pulled out a new technique, a new lure and finally have some confidence. For game day on Sunday though I was prepared to take the pattern and fish different areas in the North that had the willows and weeds. I had hoped to get on new fish and put it together with traditional fall patterns along rocks. When I started Sunday I did just this with a first stop at two holes in rocks popping big tubes around the areas. Not a taker. I pulled the jig out and got my first fish out of the rocks but it was only 13". I decided to put everything away and sit tight on the jig even if not flipping it. I Started with the willows in North working inside weed lines not leaving any holes unturned. Ocassionally I'd try an outside spot or sit and shake the lure in holes admidst rocky holes. Nada. By 10am or so I turned South and went to the willow tree. As I pulled up and looked behind me I realized I was slightly cutting someone off- I apologized and pulled out without a cast. I proceeded way past areas I figured to hold true to the pattern from Friday and started flipping working up the direction I had intended to start. The wind was slightly kicking up making my new found flipping skills turn me back into that teen girl. I was getting frustrated but started thinking how perfect it was. The anticipated front was moving in at that moment and I was on a bank that fit the mold. There was nowhere else I wanted to be. I pulled my hood tight and cap down dragged an anchor to slow things up from the wind and got back into rythim. I was concentrating still on inside edges with willows when it hit me to give it a half and half try . My first drop into an outer edge with a log spit a near 4blr. Just like before I never felt the fish just my line under the boat. This dude wasnt cold though and nearly took my right arm with him on the hookset. I barely had him in the nose and the hook dropped out once in the net.I geared back up with a blank outa the boat and moved onward about 25 ft to a similar area heavy with weeds with small holes along side sparse dead wood and willows nearby. In litterally no more than 3" of water I watched my line shoot directly under the boat again. Another gut wrenching hookset and fight all around my little boat. This fish was even bigger. By now my knees were shaking a little and I was feeling it happen before me. I worked on down to the willow where it all started and back down the same bank to the first fish hole- no more action. I figured if I ran back North I might be able to get back into some of those 16" fish to put with the two kickers I had. Before I pulled out I spied a set of willows that I don't remeber ever having fished previously- what the heck Im here I'll hit them on the way back. I pulled into the first set of willows and worked them tight even pitching way to the backs of the trunks. I pulled out a little and worked the front end in deeper water (1.5ft!) I had an OIT then- I knew it was going to happen- I dropped the little bug outside of a clump of gunk with a shoot of willow sprig- this time I shook it a little- and there went my line-- under the boat. I gave a herculean yank and up slowly rolled the biggest fish yet- just like a big waterlogged shoe right into the net. I was on top of the world by this time and geared up to do battle with smaller fish to limit the 12 lbs I knew was in the well. I worked several areas along the way trying to again find untapped holes to no avail. I pulled up to the North end then and went to a for sure limit area of smaller fish. Not a tap until right at the last flip of the intended stretch on the outside of a weedclump one grabbed it and sat on it a 16"er as planned. I continued flippn some of the same stuff up North that I started on and hole sat a couple of areas hoping to get that final 14" bite. Near the close of the day I ended with a few flips on outside weed edges near the ramp. Finally with 15 minutes to spare one grabbed it and went right under the boat- I jerked up a little jig with the trailer half gone. For as lucky as I was to put the bigger fishin the boat earlier it didn't really phase me I was happy to have just made a showing. I went back out for a few hours Monday and flipped out my last fish right along the same South shore one willow up from where my big came from the day before. I was so content with finally getting that last fish, a 5 lbr-- I went home early. Many lessons were learned this long wonderous weekend. The beauty of natures colors captivated back into my soul that feeling I had been missing. I finally stepped out of the mold of what I knew and successfully accomplished doing something different. The best way to get out of any rut. I often tell kids at work " Keep doing what you have always done and you'll get what you have always gotten" just another instance that fishing holds truth to life.