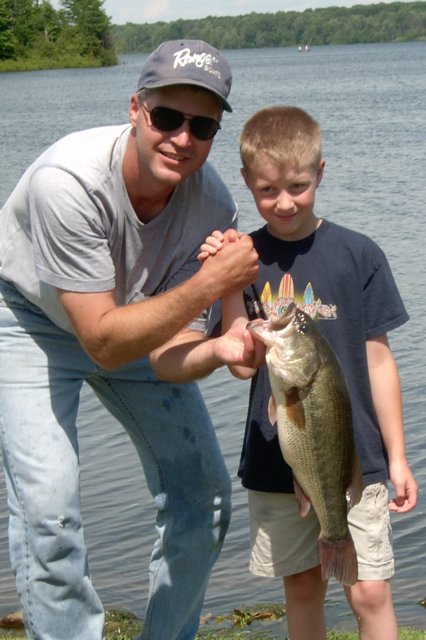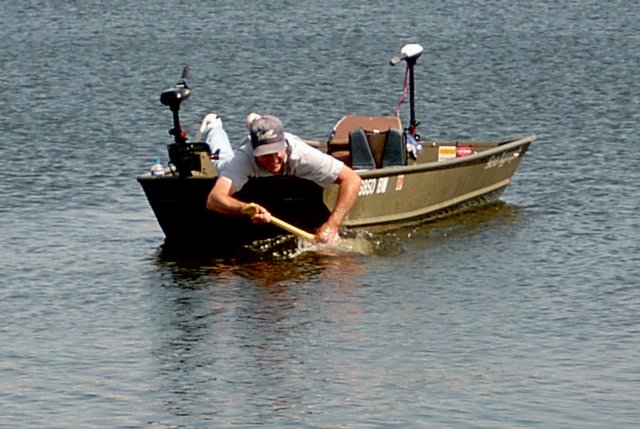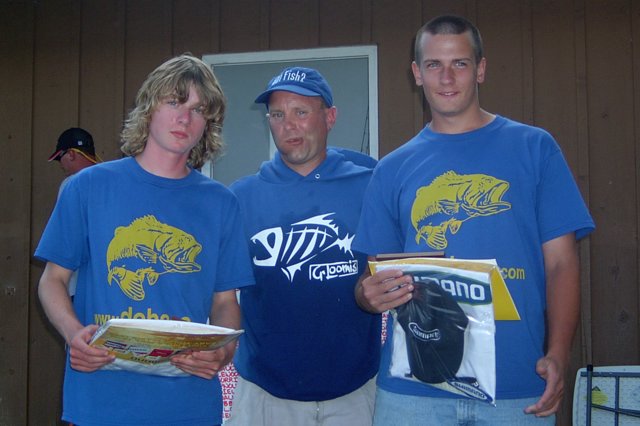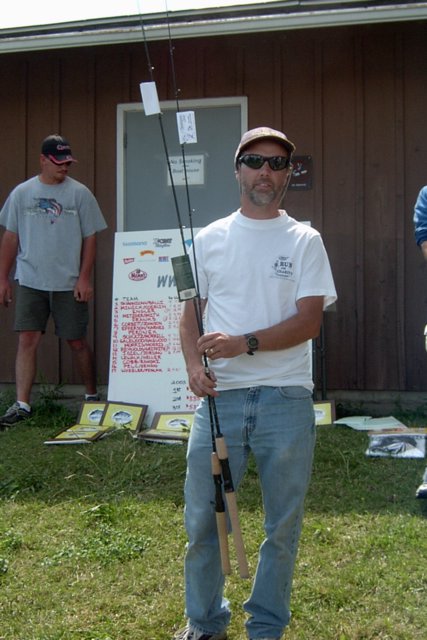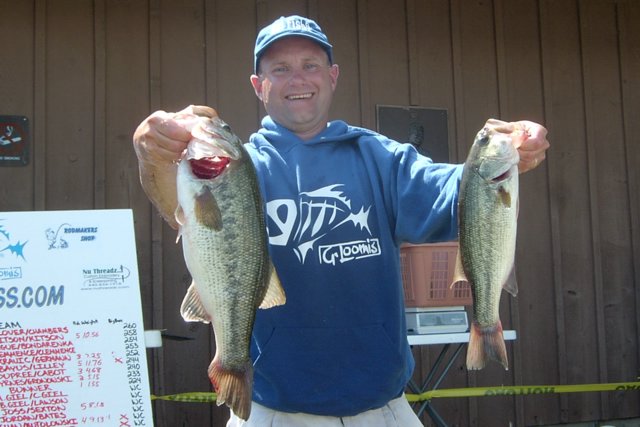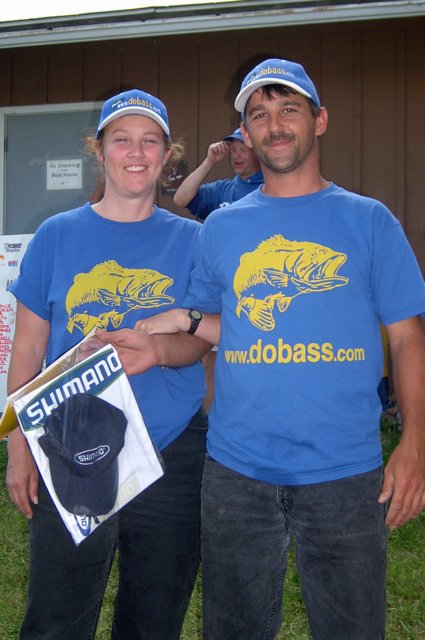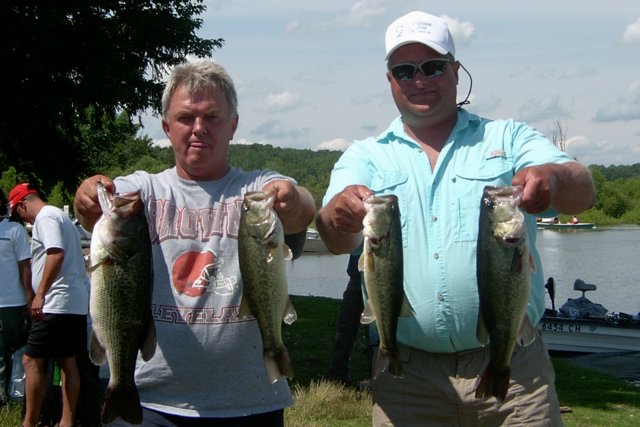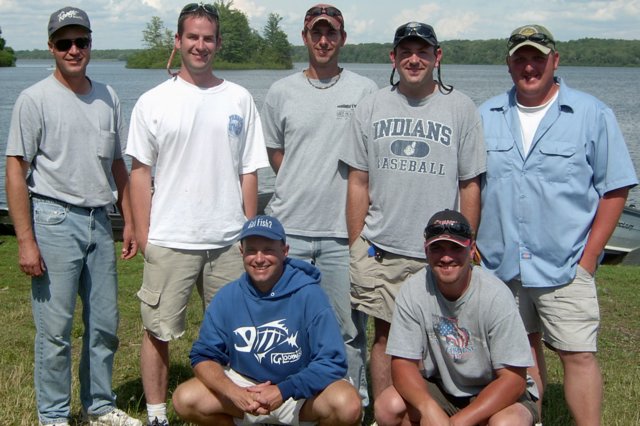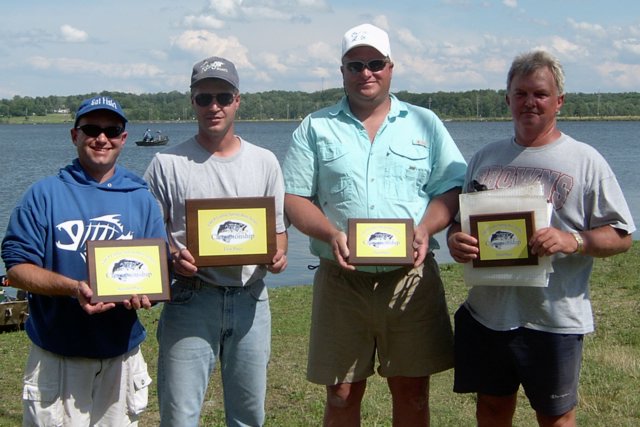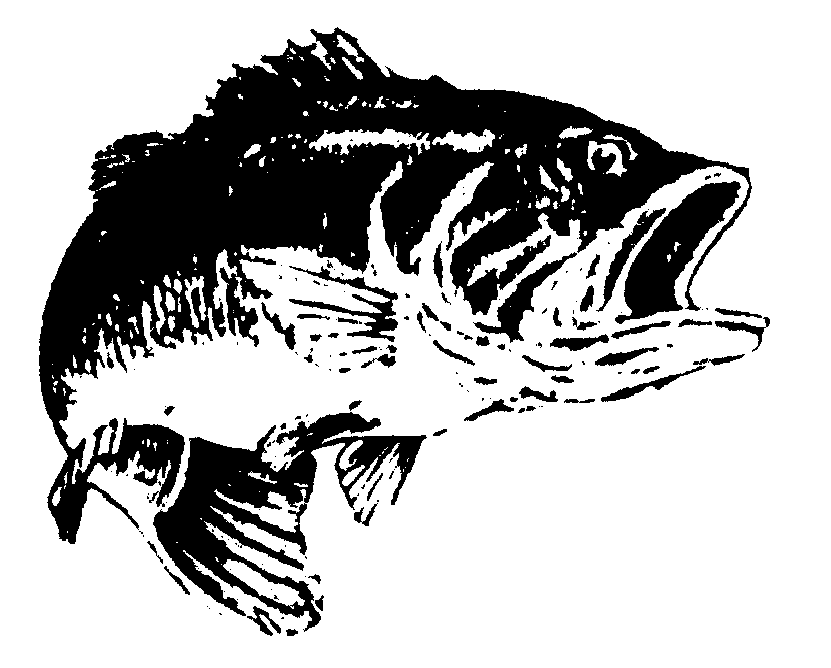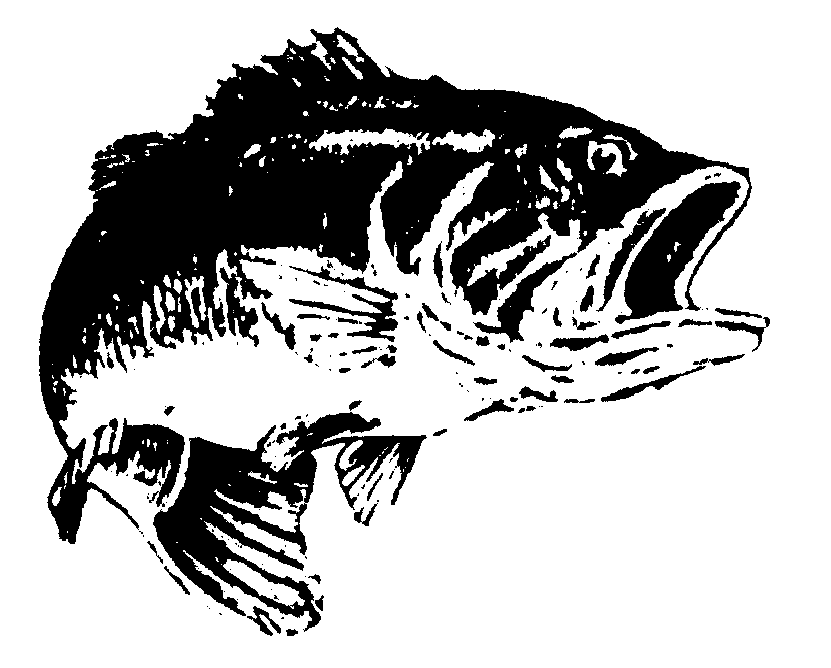 July 12th, 2003 thirty-three teams of anglers it came to be. Fishing the early to late rainy spring season, this sunny summer day the only real reason. The sun grew high with south winds starting slow, west winds quickly causing a bite to grow. Ten teams falling to zero, only six sets of anglers limiting out like heros. Seventy-four bites coming to the scales, a 2.31 pound average of the years biggest overall whales.  Toads, bucks and limits - 2003 an experience for all to lift our sprirts. Nothing in this life is accomplished without passion. The comradery of all shared in this fashion. With one last yank of my rod to all I nod, for with this final prose the LaDue Spring Bass Series has come to a close ... and so... the story goes.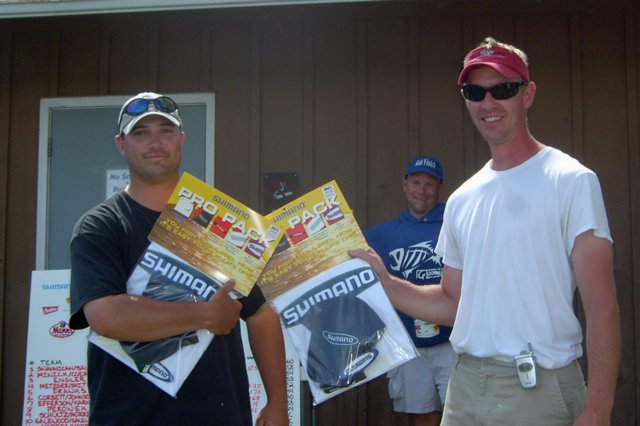 Row- row- row your boat, Joe Engler has a bag -(sing along)- four batteries later, a chip of life hater, as his back began to sag. Another hero emerges from the FBFP series as Joe becomes the first two time championship winner in dramatic fashion. In 2001, an area he deemed "the magic point" put him in the one spot. Magic point again in 2003 whalloping the field with only four fish for an astonishing 16.14 lbs. !!! Joe was looking for the record setting pace as a 4+lbr. lept  out of reach in the last hour. Fate turned ugly about half way back in the south portion of Mother as a short burst of N-NW winds at weigh-in time disrupted forward progress. For nearly a mile Joe litterally rowed into the weigh-in with less than 2 minutes to spare to put his "chip of life" in the can. It should be noted that Joe has a history of severe back problems. How he dodged the rocks I was throwing at him as he approached I'll never know! Good thing he made it... total pay with a 5.29 big bass...

           $2030 !!!   

Second place for a consecutive year (ah the spoils- no one remembers second place except my wife) tournament director Rory Franks. Sitting on "Jordan's hump" for the first 5 hours of the event, carolina rigged tubes helped spit 3 bites in a row early and 2 bites in a row late for a five fish limit totaling out at 12.63 lbs. An afternoon milk run to Northern humps left just the orginal five in the well. Quite the capper to what has become an outstanding series simply due to the quality of anglers who remain involved with the series. I sincerely thank each of you (except Joe) for further promoting the intended efforts of these events. For my days story
click here
. Total pay:
  $865 !!! 

Mitch Griffith and Garry Reynolds rounding out 2003's final spot. Talk about spoils, with one fish shy of a limit their 12.5 lbs.  yearning .13 of a lb shy of the two place. Another kicker bite like their third big bass of 4.62 lbs potentially knocking Joe back in the water! I was rooting for you guys. A tough prefish the weekend prior to the off limits led this team to persevere with their proven abilities on Mother. Tube jigs on rocky channel points leading the way to their success. These guys fishing their first year with the series and giving plenty of opportunities to show us that big bass look, Griffith has it down ! Total pay:

  $639 !!! 

From left to right- Dana Jordan and Johhny Giel wearing all their previous winnings! and finalizing the year with an out of the money team draw for a SHIMANO pro pack. Center stage, the team of Jay Cobb and Fred Ramski with two titanium Fin-Nor rods provided by RODMAKERS SHOP. Last but not least, the team of Jeff Shaw and Walt Kutolowski with another SHIMANO team pro pack. This team made a strong finish in the 2003 championship with nearly 10lbs, fate playing a righteous move with a draw for their persistence.  

Here's another kind of a big bass look by yours truly! These two guys bring more joy than any old bass. Jeff Galewood Jr. and Andy Posta making their way into the FBFP saga for 2003.  Fishing in cold, rain, sleet and heat they both woke up early every event , pulled their fathers' into the boat and laid with it all year. Their angling abilities impressive for any age. Congrats to you both on your Most Improved Anglers of the Year Awards.

Here's why the team is the team. Despite my grumblings, forget about my complaining, my control, my fish stories - they all manage to at least fake a good smile for the camera! These are the guys who make it  possible for all of us. Thank you for sticking with me the past three years fellas, it couldn't be done without you.

Joe Engler,Jeffery Pelc,Mike Bondarenka,John Seman,Todd Johnson

Me , Ken Begue

Not Pictured: Wayne Corbett, Scott Joss, Bobby Schultz

AND! The best cameralady ever (taking picture!) Sophie Engler