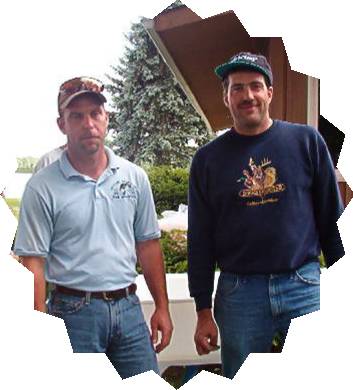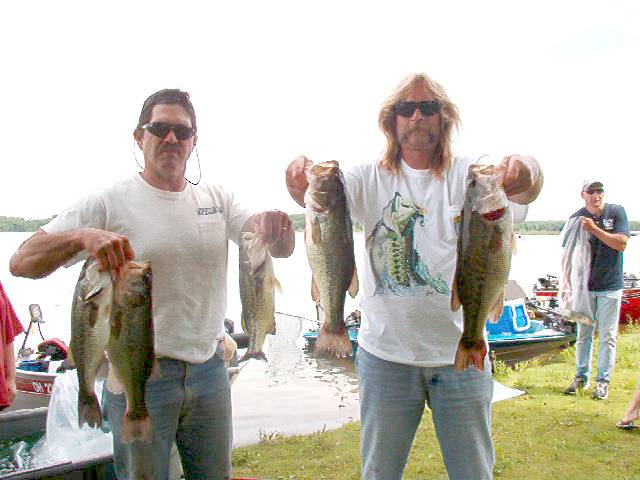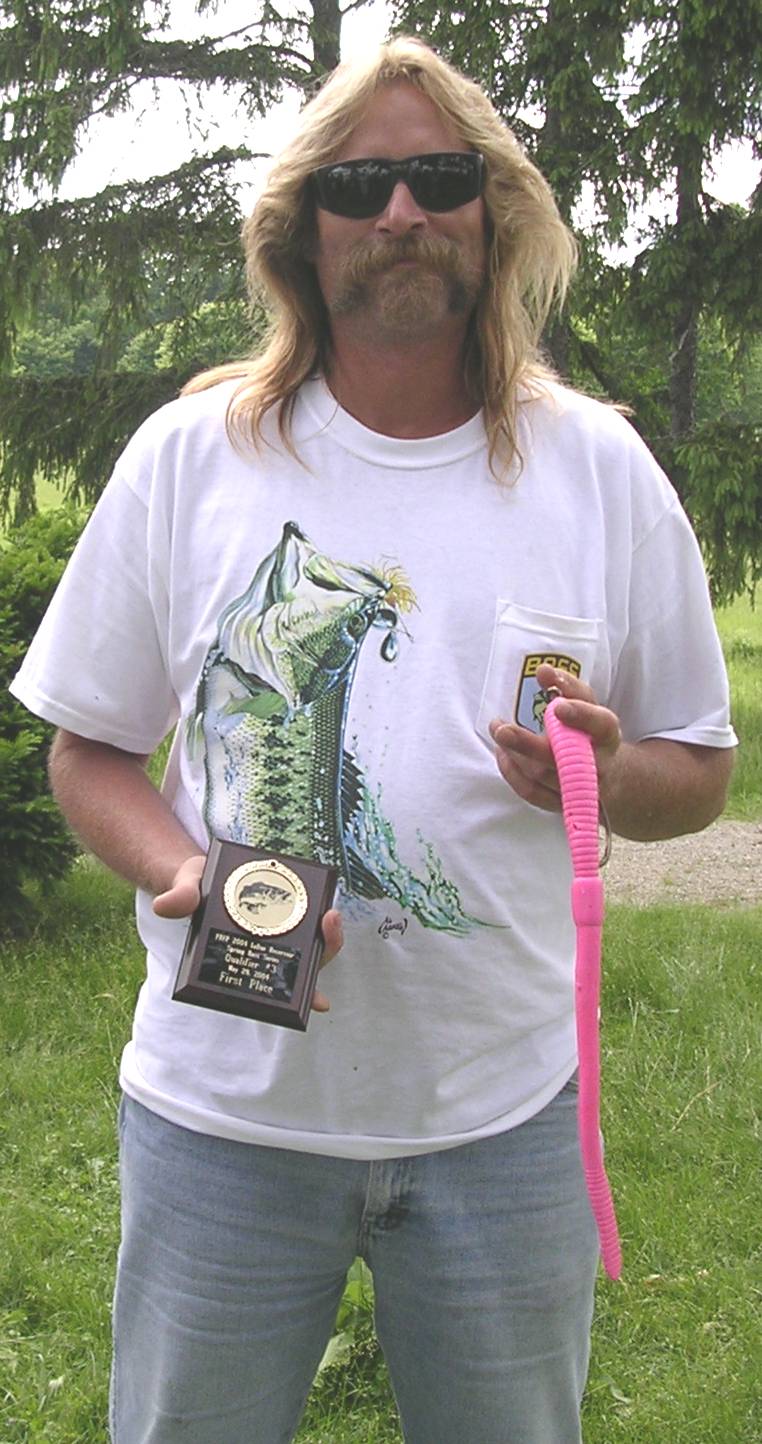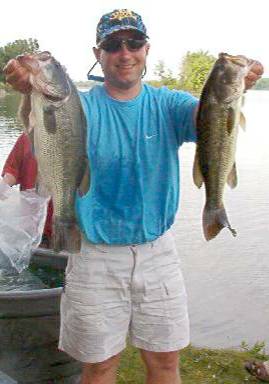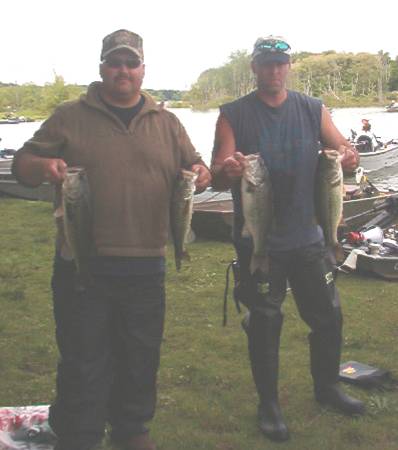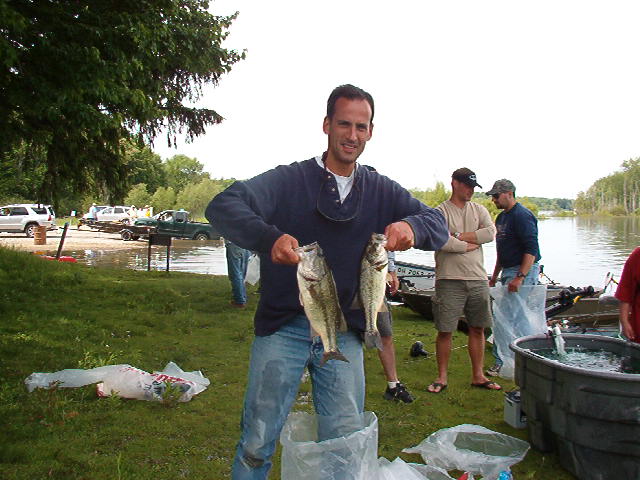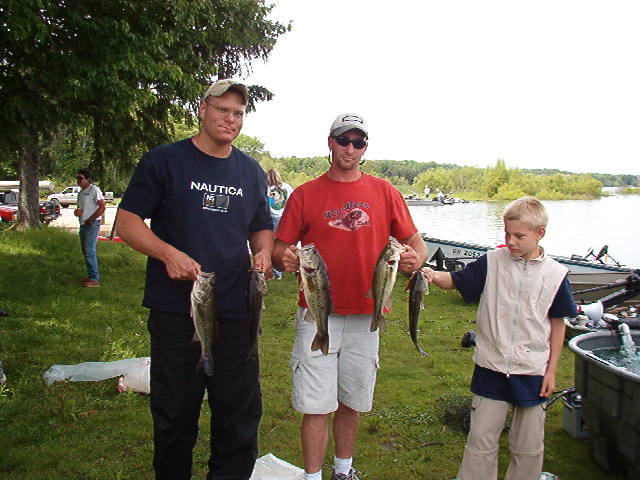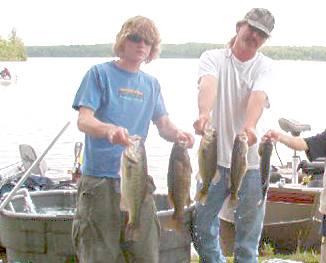 THE LADUE SPRING BASS SERIES QUALIFIER #3 MAY 29th,2004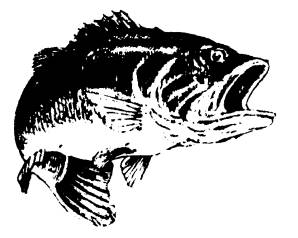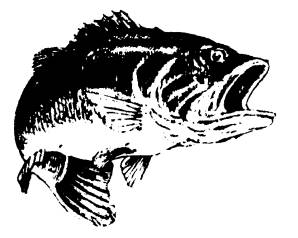 THE POST SPAWN BLUES, HELD SEVERAL CLUES, FOR 44 TEAMS OF ANGLERS TODAY. JUST 94 FISH, LEFT 11 WITH A WISH, TO LET THE BLUE SKIES CARRY THEM AWAY. MOTHER SPOKE TO TO HER SONS, FOR A LITTLE MORE FUN, AND A THREE POUND AVERAGE TO WIN.THEY APPROACHED THE SCALES, WITH FIVE MORE WHALES, THEIR SECRETIVENESS THEIR ONLY SIN. FOR EACH POSITION A POINT, AND IN THIS JOINT, IT DOESN'T TAKE MUCH TO KNOW... THERE IS NO OTHER, LIKE OUR MOTHER,TO CARRY OUR SOULS AND HELP US GROW. SO THE STORY GOES...     

Look at these big bass looks!!! These guys are all business in 04'! The team of Karnes and Efferson with back to back wins, big bass of 4.51 and the 15# pot for a total weight of 16.31lbs and a payout of $966~!

Not only putting them just 5 points from perfect for the year and points leaders, but nearly $2200 in the bank in just three weeks of deep water fishn rip-rap regions on Mother. Hold on tight boys,you're completely in tune. There are some out there who are ready to pinch your barbs down!!! Wait until they get hold of that 14/0 bigbass worm!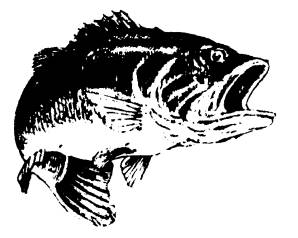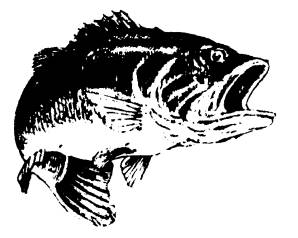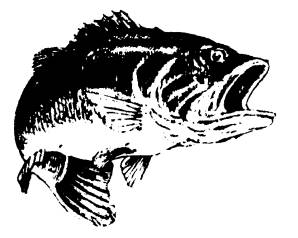 Full tilt boogie from an early slump, the team of Pridemore and Maloney with a couple of more big bass grins. These guys came out shootn' in our Summer Open late last year and have ended their silence today with one shy of a limit at 11.58 lbs, second place, and third big bass for a total pay of $478. Running to the far reaches of Mother early on, then draggn' buzzbaits parallel to weed grown shorelines,ready on each cast for what Pridemore described as "smackn'". These guys are so quiet they even left the show without their checks. Everyone starts gettn' a little shy when only two more qualifiers remain!!! Good show fellas'

If I am ever rootn' for a team- this is the one. The Father Son duo, Galewood Jr. and Sr., Better known as "buck" and "toad" with the big bass lean. These guys went from floatn' and talkn' early last year, to developing a style of fishn' that simply is admired. Buck notoriously fishes with 4 and 6lb test line shaking up a bite so deep that not even light penetrates his fish. That big smallie giving away the otherwise new found Loomis flippn sticks that got some use earlier this year. A five fish mixed bag, nearly 11lbs and $308 back into the kitty for Buck. These boys are back in tune with what they know best and in the ten spot ready to move up. Outstanding!   

Far left, fourth place, with my new lucky hat, Rory Franks with two flippn' fish of four- total weight 9.4lbs. Mother's pepper grass and elephant ears played host to the final role of the spawn. Hatchlings about the holes were hit, and mostly miss as the mommas carried my creature bait away from their homes. Total pay,w/ 2ndBB 3.74 - $343.     

Far right, fifth place, the team of Snahanican and Balli. These guys tried to sneak away without a pic, so I practiced some graphics on them! Near star status already, the 03' point champs aren't going to make it easy with just 10 points from perfect for 04'. By far, the most consistent team on Mother. Another limit of 8.51lbs and $132 in their pocket. Good show guys!    

First time in the lake, first time with the series, and BAM! A check for the final spot with a limit of 7.74 lbs. The team of Sheridan and Graf standing up and yelling at the rest of us "We're here!" These guys barely got to collect their check as the boat ramp was claiming another casualty during awards! They made it around though for their return pay of $88 and a desire to return June 12th and make yet another "first" for their team! Nice job guys!    

Rounding out the first outa the money, top left, the team of Hajek and Intihar with one less of a limit and 7.59lbs. That total bag was beat in one bite by this angler at the spring open with a near 8lbr!!!! Put that with your bag, and you coulda given the NuThreadz dobass.com hats to Efferson and Karnes!

The $100 worth of rods from the Rodshop going to part of the FBFP team,Bondarenka and Begue, top right. A well deserved reconciliation for a tough day for these boys. Check out Begue's nice hat- that's what the better half of an X-series team gets when he boats a toad for $4k!!! Thanks guys for all your hard work for our series!

We also gave away the ritualistic $50 Pradco tackle Pack- but the winners ran from the pic and my memory is just beyond poor recently- no pic and no clue who got 'em! See how everyone starts to get when points are tight!!! A big thanks to Frank Scalish and Pradco for their continued support for our series! A big thanks to Brenda Byrnes as well for filling in and doing an outstanding job of snapping pics of running anglers today!!!!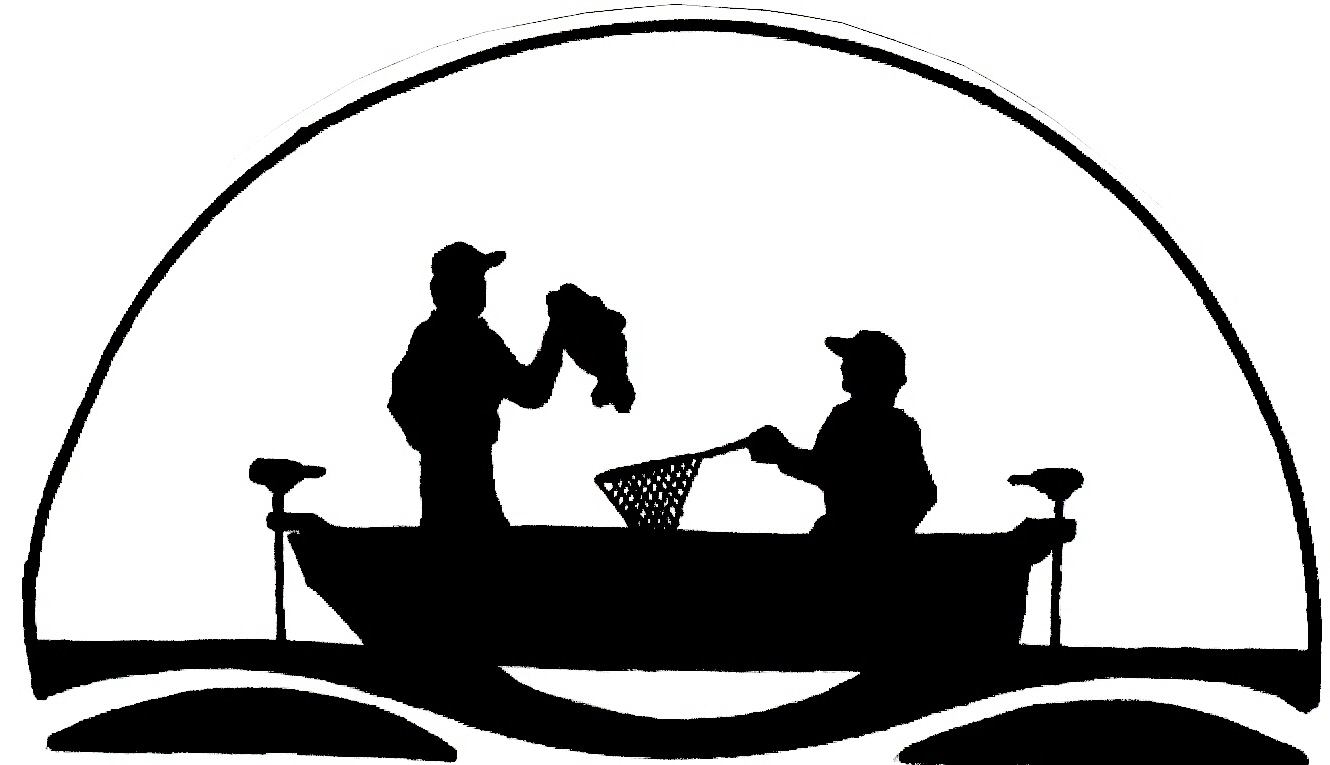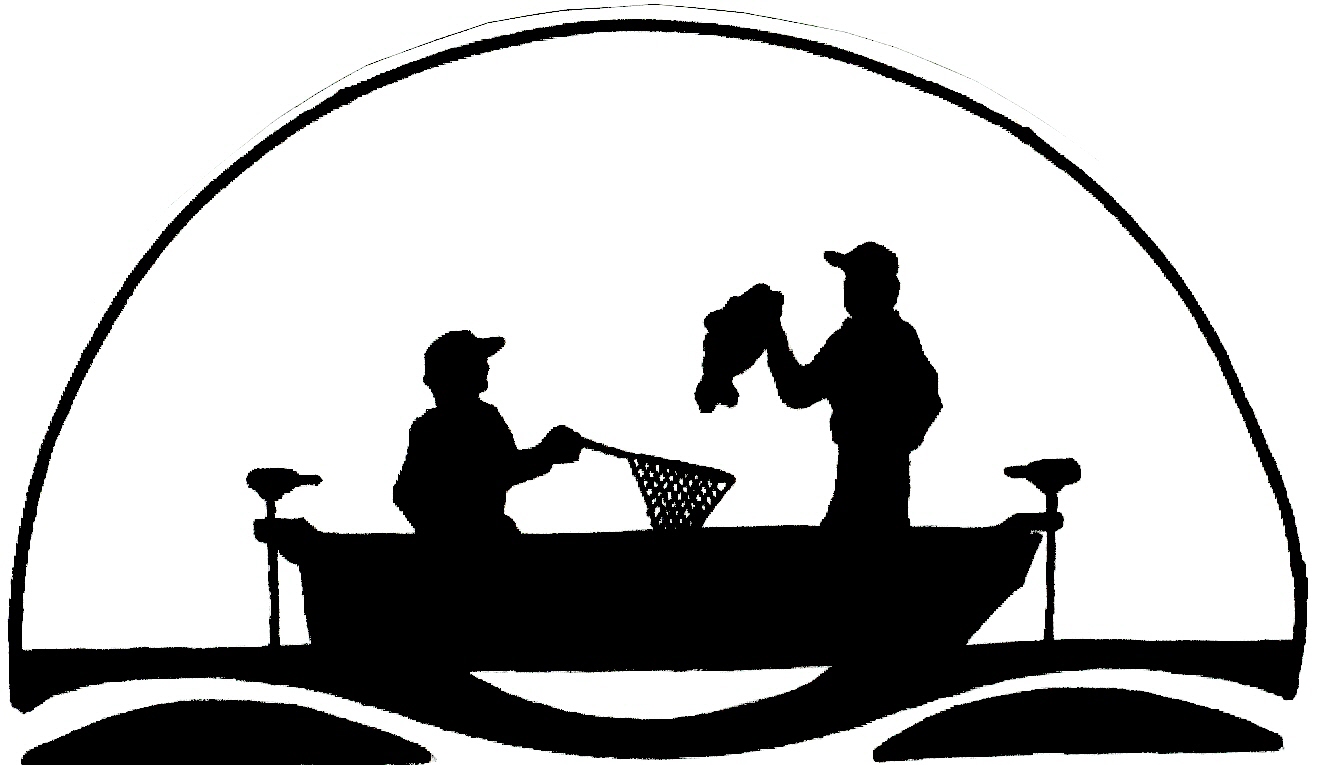 So that's the story... Next event June 12th! There are positions open for the next event so stop lurkn' around and come join us!!!

For those fishn' 6/12 and the rest of the year, myself and the team can't stress enough to be prepared!!! BRING ICE for your

livewell, a spare battery for your aeration system and keep it on all day, make frequent water changes, use "please release me" or any approved additive to decrease stress, and most importantly...

REMOVE YOUR ENEMIES, SMILE, AND THINK BIG BASS !