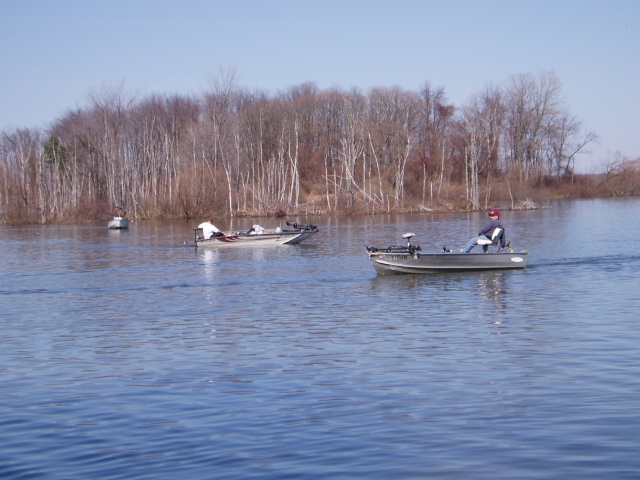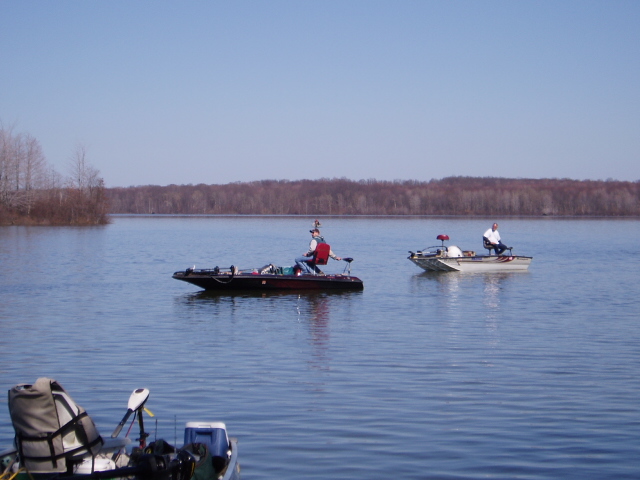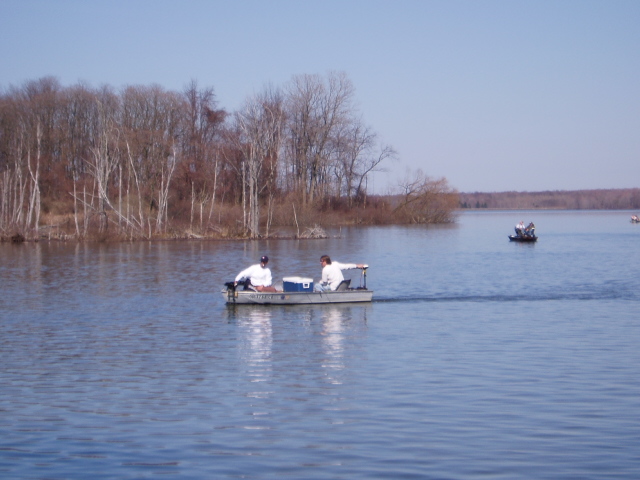 THE LADUE SPRING BASS SERIES 2005 OPEN

April 9th of 2005, brought 42 teams out to thrive. Soft East winds and abundant sun, allowed even the 66 fishless anglers to experience some fun. Nine teams with at least one bass, leaving for speculation the green rush en masse. For soon it will come, the bucks then the toads, were talkn' about Mother here, not endless roads! She'll take our hand with the daily plan and open her chest of toys. Just pick a bay and stay all day, with a jig or spinnerbait to employ. If you cry or lie it won't change a thing,"There is no other like our Mother", just wait'till the dinner bell rings! 13 fish, 84 sunburns and a 3.74lb average...so the story goes.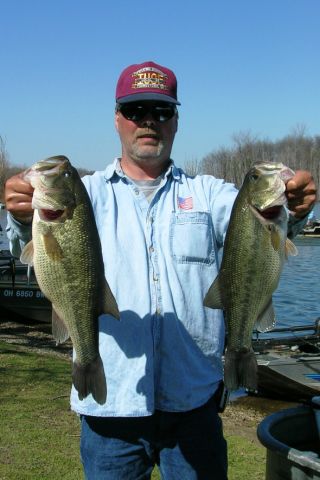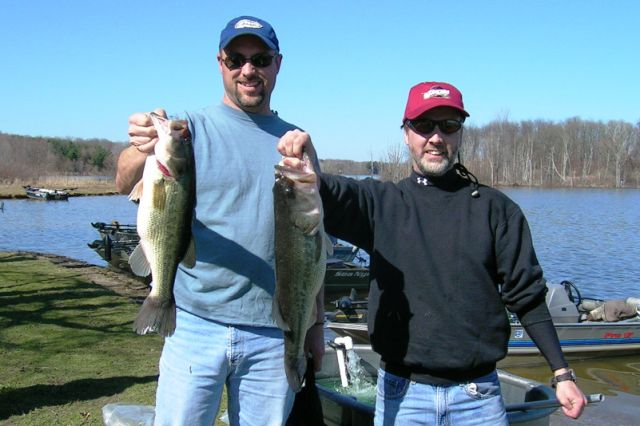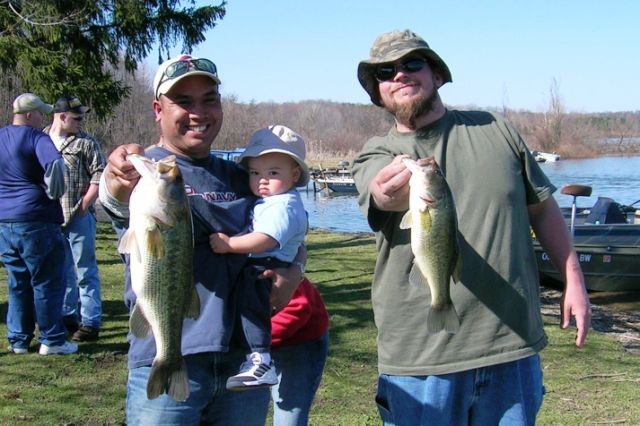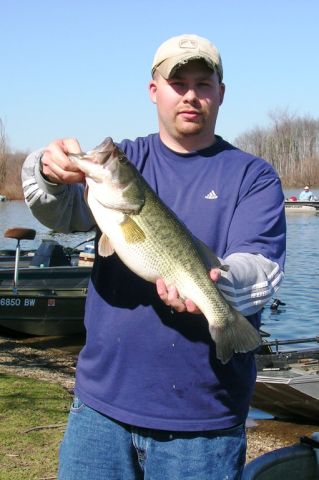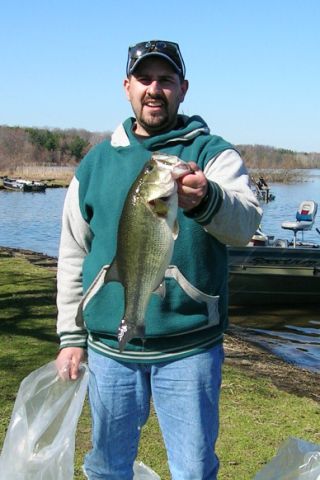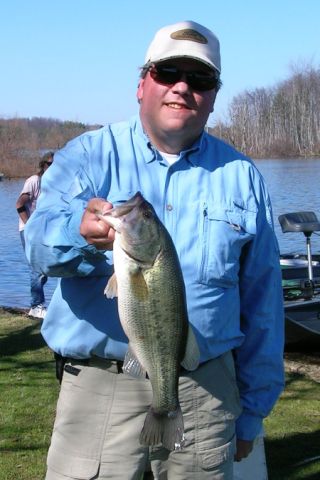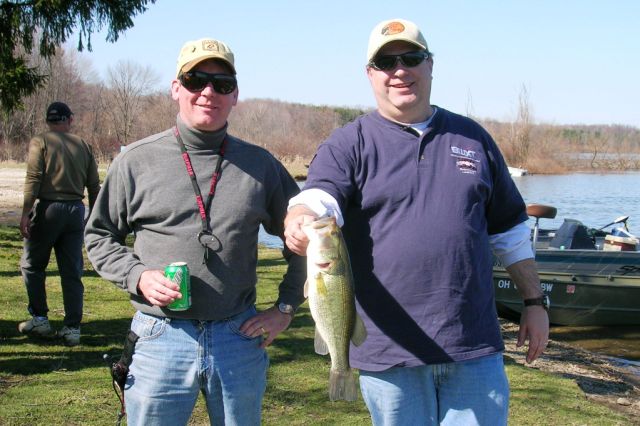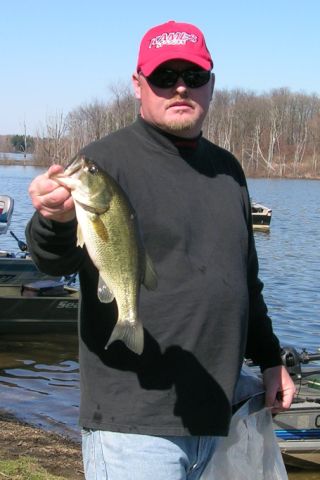 The other half of the team of Hladio and Bennett showing off two of the three bites that landed their second consecutive Spring Open win. Three fish for a total weight of 12.8lbs and second big bass at 5.65. Total pay for the day $625! One more bite like any of the three could've added to the now carried over $120 15# pot to start the season for Qualifier #1! Good show guys, happy to have you with us for the entire year this time... we think!!! We won't run you off this time!

Ramski and Cobb have been missing that bigbass look during their Lado quests the past few events, but not today! The tough coldwater bite still allowing them to put two fish in the boat for a total weight of 8.76lbs. Their efforts returning $310 for another Spring Open appearance themselves! Keep the spinnerbaits rolling guys, the season has just begun!

Check these bigbass mugs out! Not to mention the cool hats! Adrias and Huter showing off a third bigbass toad of 4.97lbs and a male kicker for a total weight of 6.6lbs. Throw in the toddler sidekick and you guys had it all wrappedup! Total pay for a sunnyday and some smiles ~ $330. Checkout Adrias' "The Lateral Line" to be presented on dobass!!! Details next week!

O'FARRELL & POE 4th

5.67 BIG TOAD LOOK

$360

SHOPE/COSTANZO 5th

4.26 LEFTY TOAD

$100

PENCAK/MARTINEZ 6th

3.86 NEAR TOAD

$70

WHITAKER/ROBBINS 8th

2.15 TOAD HOLD & LOOK!

NUTHREADZ DOBASS HATS

RIPPLE/PLOTNER 7th 2.74 TOAD GRIN $50 RODSHOP

BYRNES/GRONOWSKI 9TH 1.82 BASS SPIRIT CRANKBAIT HOLD!

When the fishn' gets tough the holds get downright big and bassy. Here's a sampling of the mugs that epotimize the LaDue Toad holds ~ or better known as the BIG BASS LOOK.

Each of the above characters got it down pat "toady" spanking the field with one bite.

The spring season just gettn' everyone warmed up including the webguy- get me some fish boys I wanna tell a tale next time around. Otherwise the smiles and holds got me beat!

Next event- Sunday April 17th takeoff at 6:30a~!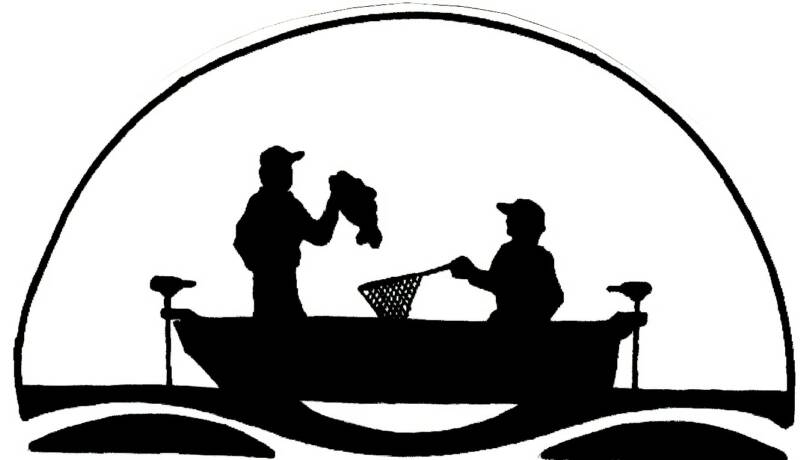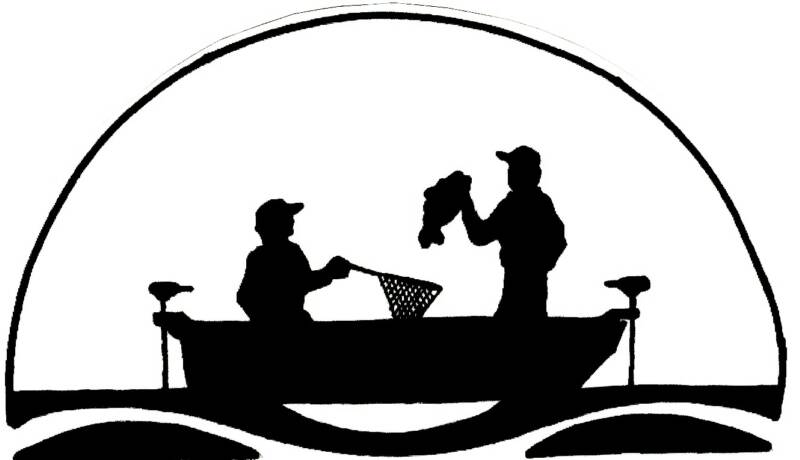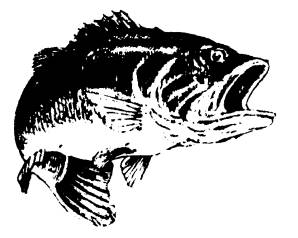 SMILE! AND THINK BIG BASS...ALWAYS