THE LA DUE SPRING BASS SERIES

Mother awoke by the tides of flat bottomed aluminum and the hum of electric power thrust. For 42 teams today a bass was a "must". A bright sunny morning, followed with a gracious Westerly blow, everyone was comfortable and ready when the director announced "go!". A huge surprise from the previous days in which the cold,snow,and rain has kept all in a haze. Hibernating anglers struggled against just a few cold water wranglers who managed to make the recent "myths" come alive. For there are some hogs, despite the dogs, who let their enemy eat from inside. Another near three and a half pound average and a record setting big bass, allowing the director to bend over and tell the non-believers to kiss his...    

One must remember when fishn'this event, you should always smile when given the chance, even when registering under the tent. So the story goes...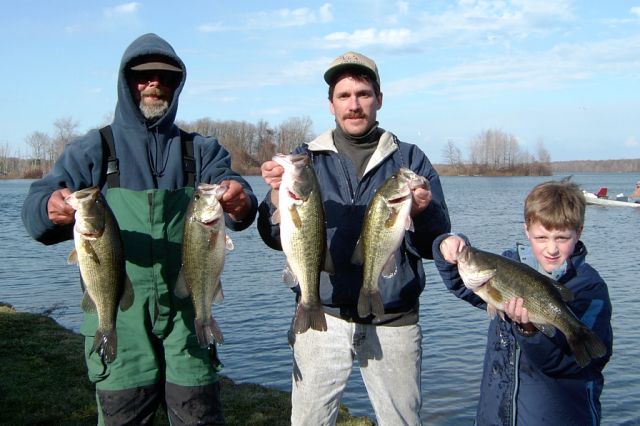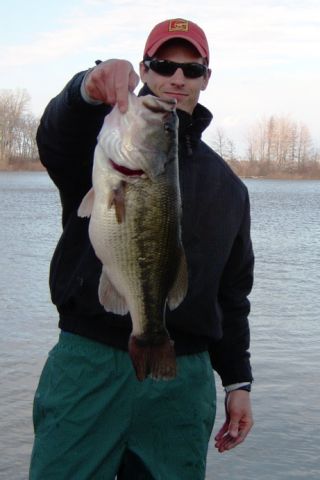 "ICEOUT" SPRING OPEN 4/3/04

WOW! Who's talkn' about fish not moving up in the cold post frontal waters!??? Not these dudes. The team of Hladio and Bennett knocking on the door of perfection with 5 bites in the boat at 17.29 lbs. These old timers have been around most all waters puttn' the hurt on the rest of the field. Starting from the far South end and working their way North a combination of jerkbaits, jigs and plastics worked around the skinny's of Mother helping them to the center stage. Impressive on any day, but just downright fantastic for a cold water event on April 3. Great job fellas, wish we had another spot for you in the qualifiers. It was kinda hard to get the votes for you at weigh-in with a combined total (15# pot and 3rd big bass,4.01) of $709 of fishless anglers money!!!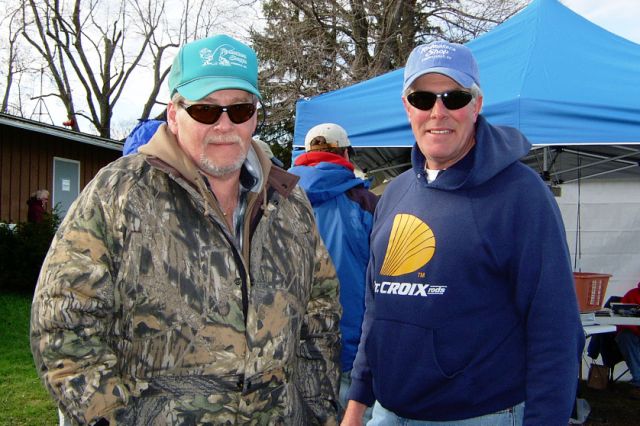 A couple more "old timers" showing us bucks a thing or two !!! The team of Snyder and Halter finally making it to our lado events. These guys have been to busy helping us gear up at Rodmakers the past three years. I convinced them to take a Saturday off and with their proving second place finish of 7.99 lbs and 5.29 second big bass, I'll be sure to not be so persuasive next time! A tough bite, 2 big fish and  $453. Rich was talkn' about carolina riggn' jitterbugs ! That's a B&C jig smile if I ever saw one! Good show fellas ! Thanks for the rods!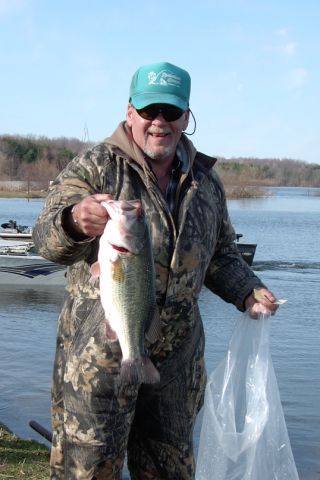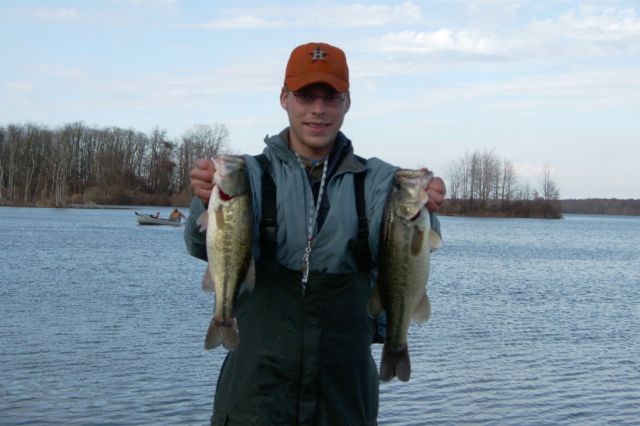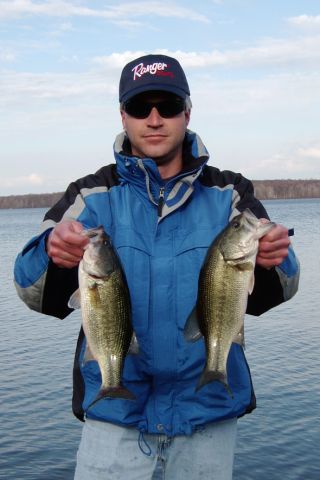 Will 2004 be the record setting year for weights on our Mother? So far, the far left team of Hajek and Intihar says "absolutely". Series record big bass and a one bite third place of ... are you ready..   7.86 POUNDS !!! DOUBLE WOW !

One bite, four shaking knees and a "eat your heart out" big bass grin, those boys went home with $447 !!! Spinnerbaitn' up in the far reaches of Mother proving she is alive and well- just pause for a moment and look at the healty mass of that fish- there is no other like our Mother, she was treated in our Sure-Life tank and released immediately by the way.

Now focus back center, a familar face in the money, the better third of the Kitson father/brothers' team! Revealing a crankbait contribution from pops off the causeway rip-rap and a lightly weighed lizard in the shallows from Jr. (he's actually like 35 years old) the duo rounded out a four spot for $168 and 5.03 lbs. Very happy to have FBFP founding teams back with us for a fourth year! Now shift right to a founding Father and now right Fin of FBFP, Joe Engler. Joe got bit three times today, twice by the 3.8lbs of fish for a fifth place finish and $126 and once by the newly renovated ramp in the morning! Despite getting stuck and then stepping in some mud in the morning Joe turned the enemy into perserverance with "spinnerbaits" along shore. Boys, if your lucky I will manage to get Joe to reveal what he really catches all those fish on by the end of the year... stay tuned !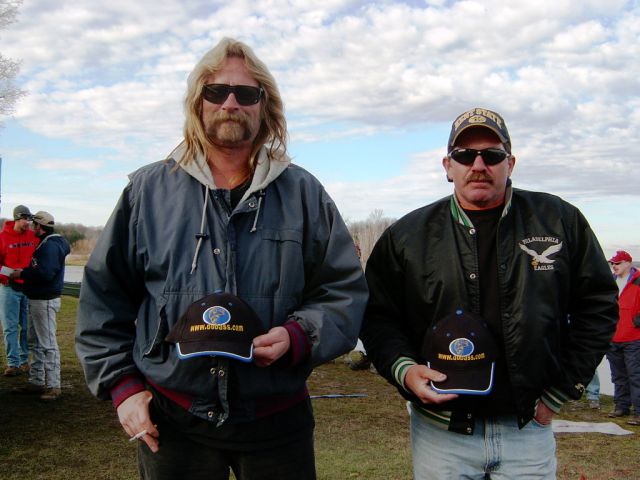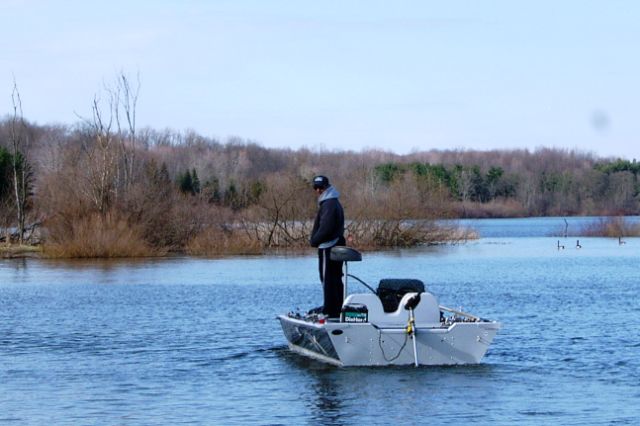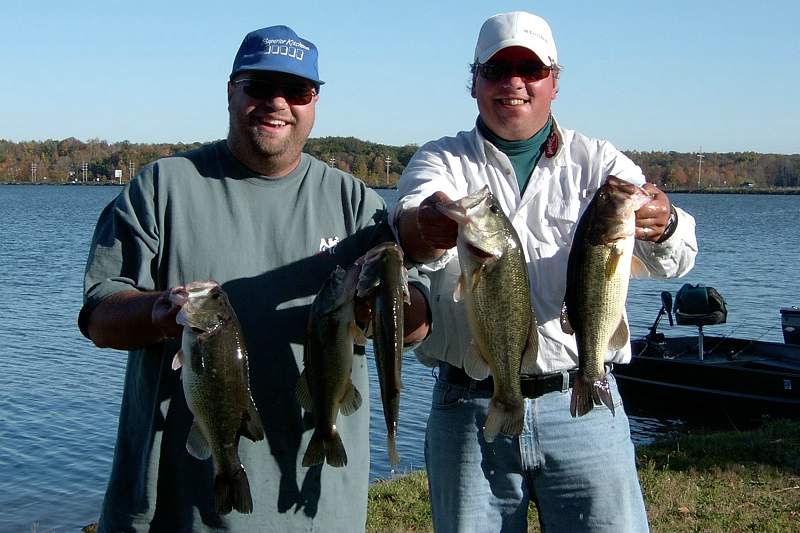 Sixth place,center, didn't realize that their one bite of 3.47lbs would make them a check nor get their picture! Boys you can run but you can't hide from my team!!! Here is a solo Prvonozac waitn' for his brother to bring the worms in the morning. Glad to have you with us in 04'! $84 for an entry fee and half a tank of gas... at least until Bush is outa office!

Upper left was the first place outa the money team of Efferson and Karns with 3.05lbs winners of some righteous, newly designed hats to be given away at each event to the first place outa the money from NuThreadz! Not sure if many of you realize that NuThreadz offers anglers angling specific embrodiery work. They are a bass tournament fishn' family and understand the kinda work anglers desire for their clothing gear - patches,names, custom jackets! The new dobass 04' hats or any kind of bass tournament specific gear can be purchased directly simply by clicking on their business card above

Far right the team of Pencak and Wheeler from a late fall day last year, managed to not only pick up their plaques today but also won TWO 7'6" Quantum IM-7 flippn' sticks retailed at $90! The Rod shop has more of these quality rods at a super price- maybe even some B&C bear hair jigs too - don't tell Rich I told you though!!!

We also gave away a Pradco tackle pack to Mike Bunner who has been with us since the start. Pradco hooked us up this year with a tackle pack of over $50 at each and every event drawn from an outa the money team. This aint dog gear either. Bunner kept askn'- "I get all this!" Booyah jigs, hats, several packs of Yum plastics, jerkbaits. good thing Bunner remembered his "chip of life" this time around !!!

So... there we have it, the first event under our belt for 04'. I hope all enjoyed our new show complete with some Neil Young and Santana !!! A huge thanks to the 04' team ~ Joe Engler, Ken Begue,Mike Bodarenka,Wayne Corbett,Todd Johnson,Chris Minick,Bobby Schultz, Garry Reynolds,Sophie Enlger- you all did a knock out job !!!

Next event April 24th 6:30am takeoff - registered and ready to go no later than 6:20, we won't wait this time around !!! There are currently 7 teams on a wait list to get into this series, if they are there on time and you aren't, your spot will be filled!

SMILE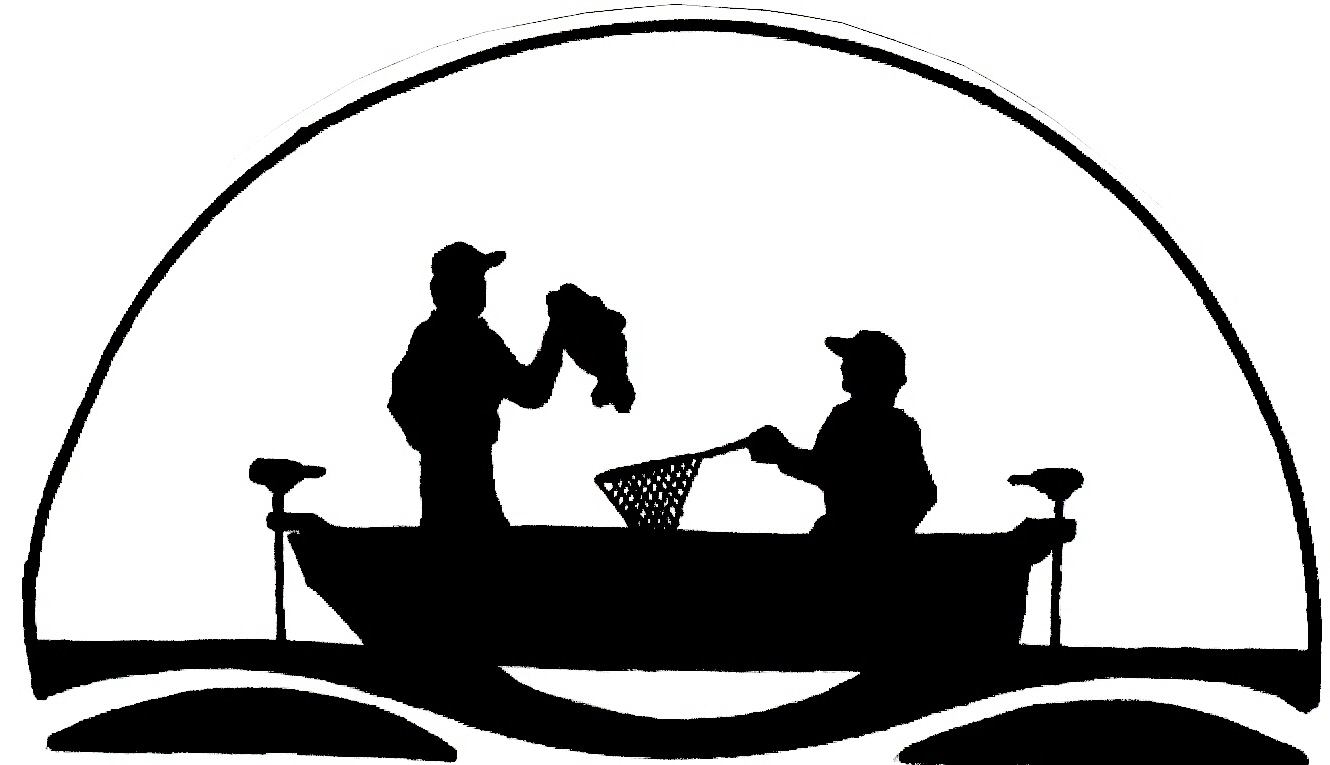 Remove your enemies and think big bass