FBFP2002 THE "DO" SPRING BASS SERIES 4/27/02

TRUE SUCCESS IS EXPERIENCING YOUR SKILLS AND TALENTS AS AN ART,BEYOND JUST A MEANS TO SURVIVE. IT IS KNOWING YOU HAVE DONE YOUR BEST. IT IS TOUCHING PERFECTION IN WHAT YOU MOST LOVE TO DO. CONTAINED WITHIN THE EUPHORIA OF THOSE MOMENTS ARE INFINATE POSSIBILITIES OR INFINATE CONFUSION.*

CHRIS MINICK TOUCHED PERFECTION ON APRIL 27TH, 2002 SETTING THE BAR FOR THOSE INFINATE POSSIBILITIES. EASTERNLY WINDS FROM 5-10MPH OPENED THE DAY WITH BRIGHT HIGH SKIES AND TEMPS IN THE LOWER 50'S. BY ONE PM MOST EVERYTHING STAYED THE SAME EXCEPT DARKENING CLOUDS AND THE TREMBLE IN MINICK'S KNEES. A FULL MOON THE DAY BEFORE AND A DROP IN WATER LEVEL SET THE STAGE FOR A DAY TO BE REMEMBERED ON THE ONLY INLAND LAKE IN OHIO CAPABLE TO GRANT SUCH A BAG. 37 TEAMS SHOWING , 11 TEAMS HIDING , 8 GETTING PAID...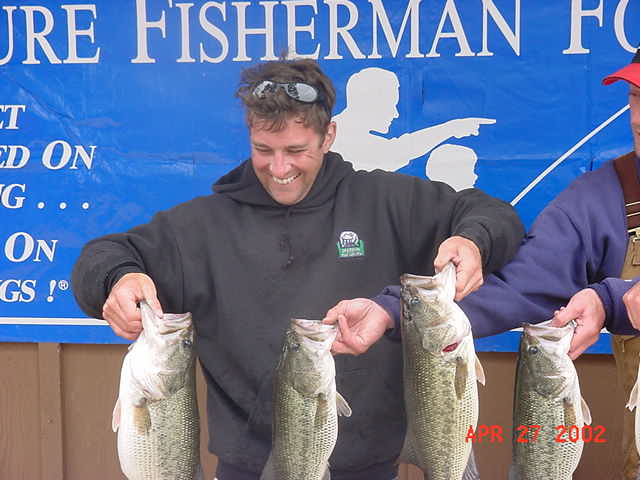 FROM ZERO TO HERO CHRIS MINCK STANDING IN AWE WITH MOST OF HIS FIVE FISH LIMIT SHOWN. I THINK THE CAMERAMAN GOT A LITTLE EXCITED EVEN !!! CHRIS FOUND SOME NICE SMALLIES EARLIER IN THE WEEK OFF DEEPER RIPRAP USING A BLUE ON WHITE JERKBAIT. RETURNING TO HIS HOLE THE DAY OF THE EVENT THE BROWN FISH DISAPPEARED, MOST LIKELY SCARED OFF BY THESE BIG GREEN SWINES. CHRIS REPORTED THE "THREE SMALL FISH" CAME WITHIN CONSECUTIVE CASTS RIGHT AFTER 9AM - THE TWO KICKERS FROM NOON TO 12:15. FIVE BITES , 20.46 POUNDS , AND A GOLLYWHOPPER OF A CHECK AT $794 !!!

OUTSTANDING FISHN'. NOTHING BEATS GETTING IN TUNE WITH MOTHER LADUE. SHE CAN PUT THAT DEVIL FURTHER SOUTH THAN GEORGIA - WHERE IS THAT GUY ANYHOW ??? GREAT JOB BUDDY - STAY INTUNE !!!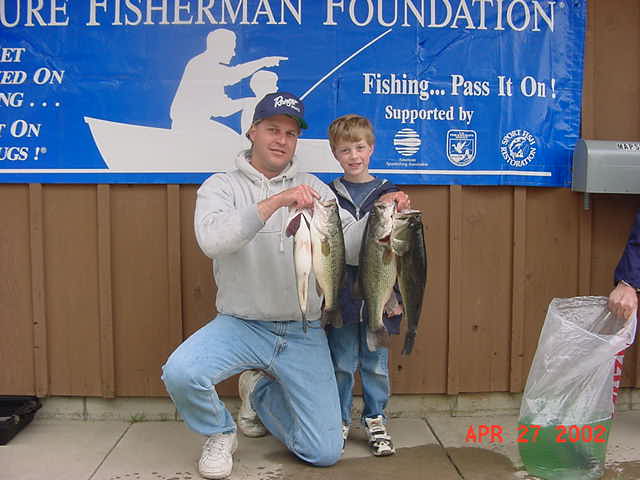 SECOND PLACE WENT TO YET ANOTHER FAMILIAR SINGLE ANGLER - JOE ENGLER. JOE LIMITING OUT AT 9AM AND EATN' LUNCH AT 9:01. STILL MANAGING TO BANG 6 OR 7 OTHERS  UP TO THE CLOSE, CULLING 2. EVERY FISH FROM A BLACK AND BLUE JIG ON THE OUTSIDE EDGES OF BRUSH. NOT SHAKING, SITTING NOR STROKING THE LITTLE LEAD CREATURE, JOE "SHORT HOPPED" HIS 5 FISH FOR ANOTHER BIG WEIGHT OF 15.16LBS. HOPPING BACK INTO FORM TOO WITH $333 TO REPLACE ALL THOSE BENT SPINNERBAITS HE REALLY CAUGHT HIS FISH ON !!! GREAT JOB JOE - GET THAT BOY A FISHN' POLE!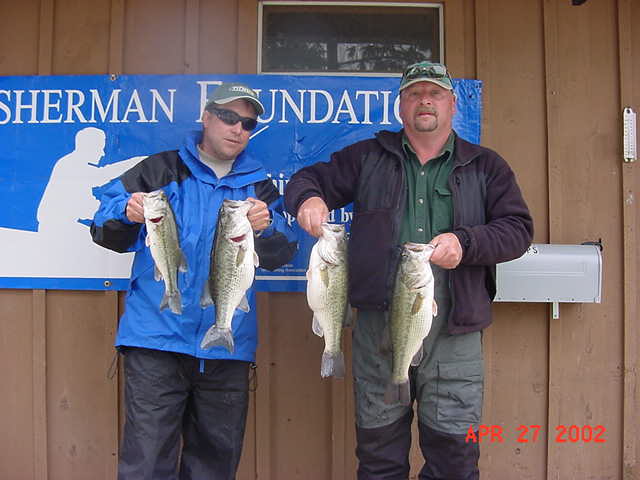 NO THIS IS NOT AMERICA'S MOST WANTED , THIS IS THE THIRD PLACE TEAM OF SCHULTZ AND MORRELL! THEIR SECRETS TO SUCCESS... MEET UP WITH JOE ENGLER AROUND 9:05 AM AND SEE WHAT HE'S THROWN' . I GUESS THE 3RD PLACE POINT CHAMPIONS FROM 2001 MIGHT ACTUALLY KNOW WHAT THEY ARE DOING THOUGH. ONE FISH SHY OF A LIMIT AND 11.81 LBS LATER THE TWO AGAIN TAKING $259 OF OUR MONEY TO THE BANK. ONE MORE BITE AND JOE MAY HAVE REGRETTED HIS JAWIN'! NICE BAG FELLAS !!!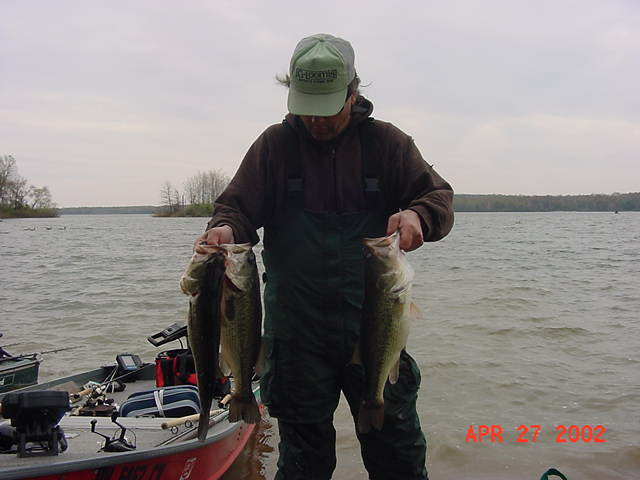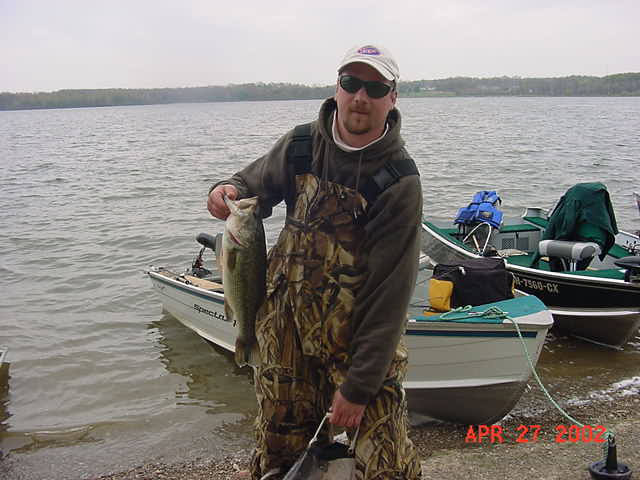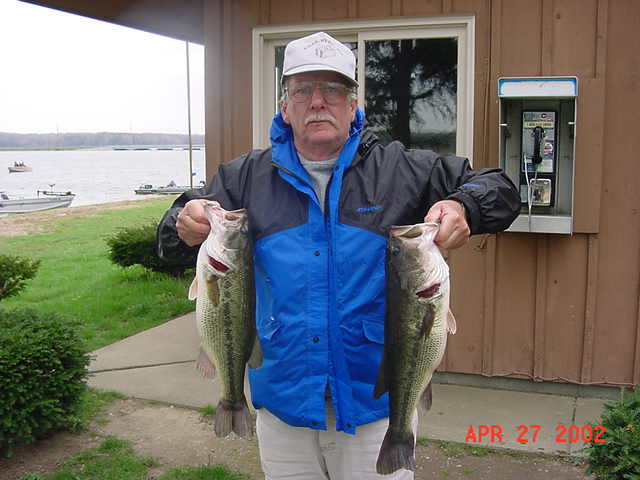 ROUNDING OUT THE FINAL SIX PAID TEAMS (AND PICTURED WITHOUT THEIR PARTNERS) FROM LEFT TO RIGHT- KRAVIC AND GERMANN WITH 11.65 LBS AND FOUR FISH PAYING $185. CRANKN' OUT THE FOUR INTO THE BOAT AND IF I REMEMBER CORRECTLY LOOSING THAT MONEY FISH A COUPLE OF TIMES, THEIR CONSISTANCY WORKING THEM INTO THE THREE SPOT OVERALL. FIFTH PLACE AND SECOND OVERALL, THE TEAM OF RICKER AND TUNDER- 4 FISH 10.89 LBS- TOTAL PAY $111. FINALLY THE HUSBAND WIFE TEAM OF ADKINS AND ADKINS 3 FISH 10.57 LBS AND $74. OUTSTANDING FISHN' . ALL THESE TEAMS ARE RETURNS FROM FBFP2001 AND WITHOUT QUESTION TURNING ON THE HEAT FOR 2002.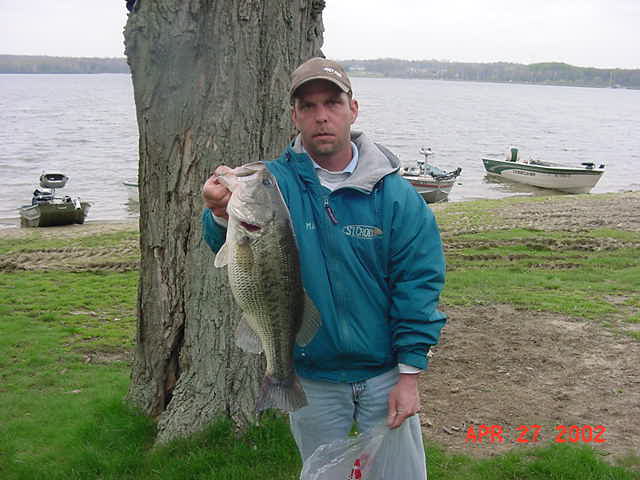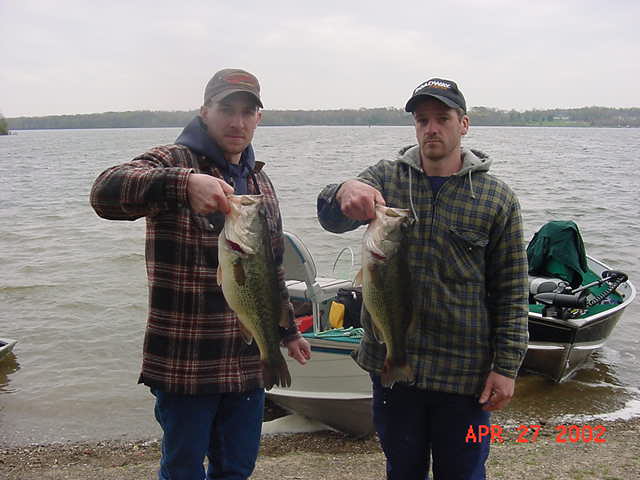 THE LAST TWO CHECKS FOR THE DAY GOING TO (FROM LEFT TO RIGHT) THE TEAM OF MOORE AND MINARD WITH A 2ND BIG BASS AT 4.94 LBS FOR $96 AND SNAHANICAN AND SNAHNICAN 3RD BIG BASS AT 4.72LBS AND $64. TOADS LIKE THOSE WOULD MAKE ME SMILE - BIG BASS GUYS ALWAYS GOT THAT LOOK THOUGH !!! GREAT JOB GUYS !!!!

SO, THE SAGA WILL CONTINUE INTO THE NEXT EVENT ON MAY 18TH FROM 6:30AM TO 3:00PM. AGAIN MAKE SURE ENTRIES ARE MAILED IN TIMELY FASHION IN ORDER TO AVOID THE $10 LATE FEE. THE STATS ARE COMPLETE AND CAN BE PRINTED FROM THE LINK BELOW. EVERYONE DID A SUPER JOB WITH REGISTRATION THIS TIME, PLEASE CONTINUE YOUR EARLY ARRIVING HABITS FOR 5/18. THE CHAMPIONSHIP POT STANDS AT $720 LEADING TO A POTENTIAL PAYOUT OF OVER $1000 FOR FIRST PLACE ON JUNE 30TH. CURRENTLY THE TOP 18 TEAMS WOULD GO TO THE CHAMPIONSHIP ALONG WITH 5 WILDCARDS WHO DID NOT QUALIFY BUT PAID FOR ALL 4 EVENTS.  I'M PUTTING THE ORDER FOR PLAQUES IN THIS WEEK FOR POINTS CHAMPS AND THEY ARE GOING TO BE REAL WALLHANGERS THIS YEAR SO KEEP THAT IN MIND AS YOU MAY STRUGGLE FOR THAT ONE BITE! MORE HUGE THANKS TO ALL THE FBFP HELP FOR CONTINUING TO MAKE THESE EVENTS HAPPEN - SEE ALL ON THE 18TH !!! NEWCOMMERS ARE WELCOMED !!!!!!! 

* TAKEN FROM RICK CLUNN'S ANGLER QUEST SERIES "PROMISE KEEPERS"