NORTHERN OPEN ANGLERS ASSOCIATION WEST BRANCH RESERVOIR 4/30/05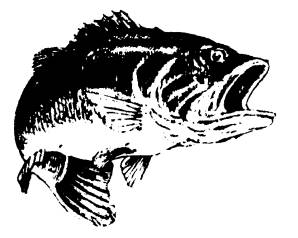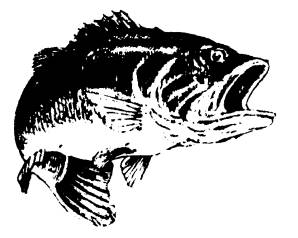 SPRING HAD SPRUNG AND WINTER THEN RETURNED, BURNING A HOLE INTO THE SOULS OF THE 40 TEAMS WHO FEARED "NO ENEMY" TODAY. MOSTLY NORTH WINDS SPIRALED WINGS OF RAIN FROM A LOW FRONTAL SYSTEM THAT TRIED HARD TO RUIN THE DAY. TWO BITES FOR A CHECK, 80 NUMB HANDS AND JUST 42 FISH MAKING IT TO THE SCALES,

SO THE STORY GOES...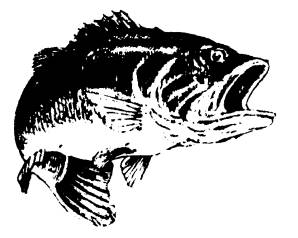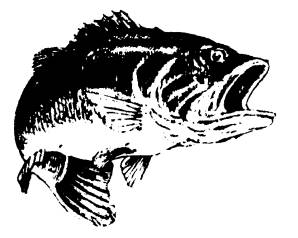 If there is any kinda story from today it comes from the first place team of Jeff and Bob Quesenberry. Two solid SMALLMOUTH bites, one of which topped the big bass scales of 5.06lbs adding to the first place payout for a total of $4240. Total weight ~ 7.87lbs. Great job fellas on a super tough day ~ great hold on the brown toad and a big bass smile like only a five pound smallie can create... or was it the four thousand dollar payday!???

Here they are again, the two jerks partially running the show and making a top spot with the only limit of the day! Rory Franks and Joe Engler grabbn' hold of five fat little fish for 7.8lbs and a payday of $1440. Joe rolled out white flashes with a blade and let me turn the Stratos around with the big stick to catch 'em. No one has knocked that Ranger hat off yet Joe, we're just waitin on Berlin! We'll get to fight before the season closes, hopefully!

Bo Pieffer and Tom Dixon, one goin' deep and the other skinny, to round out the top three with one shy of a limit for 5.22lbs.The words dropshottn' and Dixon just don't go together, a good guess leads one to believe Bo pulled the two smallies for their bag!? Great show guys and awesome big bass stare from Bo! Total pay $880.

Fourth place to the nicest guys running the show, Kenny Ken Begue and Chirstopher Minick rippin' two from the drink for the four spot overall. These dudes got the brunt of a tough day from each team as they checked us in. Two flippn'fish, one looks like he ran from a musky earlier,Kenny saved this fishes' life! Total weight 3.72lbs. for a $640 return. Nice hat!

Jeff Swisher holding two and a half pounds of 3.59 from his teams' two bites. His partner Crawford musta grabbed the $480 check and hid from the camera! Thanks for running with us this year fellas, very pleased to have you aboard. These guys are just gnawing at the bit for May 21st to get a full field on Berlin reservoir. See you all then!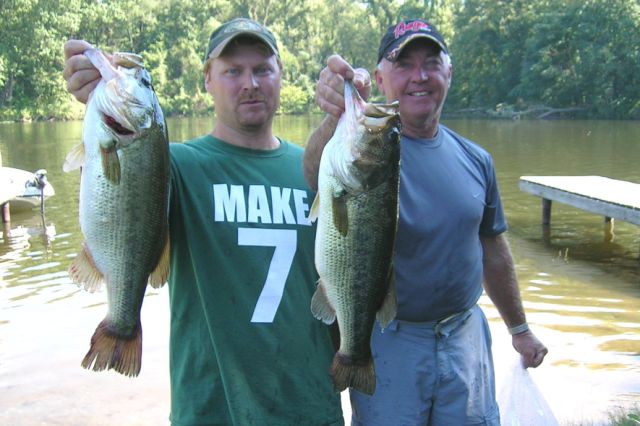 You can run but you can't hide from dobass! Bobby and Ron Kotch snuck their three bites back into the water and dunked into Portage later to get their swerve back on! 3.42lbs made them the final check today of $160. You gotta love the perfected bigbass holds from the last NOAA event in 04' though. Good show fellas, welcome back.

Eddie Hankins with the best bass hold for the year thus far.Ed and John Shriver making a show with 3.24lbs and getting kickbacked $100 of gear from the Rodshop and a new three bladed Kipawa prop for the rig. These guys won Berlin big in 04' - the 21st is just a couple of weeks away!!! Thanks guys for coming out.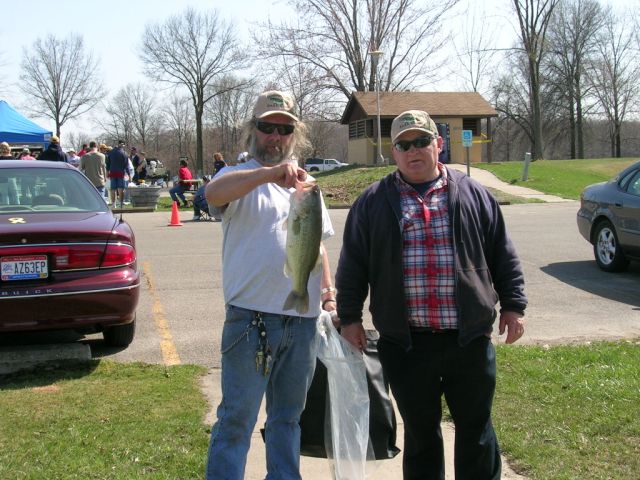 Making up for a web mistake last event!, top left, Mike Slates with partner Carrothers holding a second bigSTRATOSbass from the Mosquito event! Sorry guys that new 201 rig with a 250XS made me do it! Nice boat!

Top right the "better" half of Jeff Ring's team, Mr.Battershell holding a 3.15 second bigbass coming off an early morning buzzbait in 50 degree water! Total pay $160. Word is, future NOAA events will also offer a 3rd bigbass award from JR RODS ~ much appreciated!!!