NORTHERN OPEN ANGLERS ASSOCIATION PORTAGE LAKES

APRIL 15th, 2006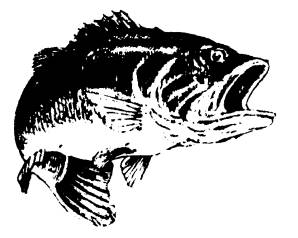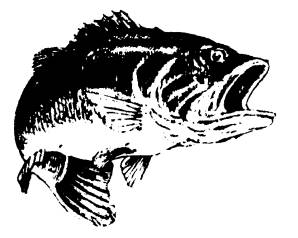 HIGH BLUE SKIES JUMPED THE MORNING CLOUDS AND USHERED OUT THE EARLY CHILLY AIR. THE FIRST FULL FIELD OF SIXTY TEAMS PRODUCING A FIRST PLACE DATE OF A $6000 PAYDAY. 128 FISH TO THE SCALES FOR A FIELD WEIGHT OF 262 LBS.- A 2.04 PER FISH FIELD AVERAGE

Ray Halter and Rich Snyder with white teeth, green fish and a SIX THOUSAND dollar big bass hold on four from their five with a total weight of 16.43lbs. Better known from the Rodmakers Shop, the discounts just got deeper on some Gambler Swim Blades that helped carry them into the one spot! A 4.68lb JR Rod 3rd bigbass graciously passed onto a future angler. When the "good guys" win you just can't help smilin' along with Rich! Great show fellas- all top 3's in 2006!???

Back again and startn' the season in the two spot, John Shriver and Ed Hankins taking full advantage of slow fishin today- just 7 bites grouping their top five at 13.58lbs. Summit Racing helped get 'em to the all familiar plaque pimpn' $2160 payday. If you've missed their story before, checkout a great partner story originated on dobass.com RIGHT HERE. Simply awesome yearly consistency fellas- lookn' forward to Mosquito 4/29!
Bass fishn' has a way of making special moments, even if you leave out the third place payday of $1320. The father/son team of Ron and Bob Kotch adding some more Portage wood to the wall with their limit bag of 11.63lbs. The "old" man spending some 50 years on the chain of Lakes and still most likely gettn' schooled regularly by Bobby. If anyone knew what the director goes through just to get 'em registered and fishn' you'd pay us!!! Great job fellas, appreciate your continued support!

Joining us from THE FIN' in Ashland, Mark McQuate and Steve Hatfield. Now don't let the looks in the pic fool you- these are the smilingest guys around! But one crawdad poop later, and their limit of 11.47lbs just turned into fourth place, aka first outa the wood by 16 hundredths of a pound! The new baskets are tared to the gram fellas AND we'll still pay you $960 for your efforts today! Lookn' for wood on the 29th!!!! Great fishn anywhich way- ask the 56 other teams! 

Like the sun rising, you can somehow always count on these dudes to make a money spot in a NOAA event! Tim Barta and Brian Bickerton laying out a hold onto a limit sack of 10.8lbs for a return of $720. These guys pocketed the first full field payday of $6k this similar date last year, knocked out a bigbass in the last Portage event and again running home on the plus side starting 06'...you'd think they'd at least offer the director lunch or somethin'! Good fishn! Barta is NOT allowed to wear the green shirt though!

WHOA! Who let these guys in! Jeff Ring and Mike "Gomez" Miller missing the toad shot from the camera and giving a sixth place with 10.61lbs pose! Jeff hooks our events up with the now infamous JR third bigbass custom Rod. $240 return for their efforts givn' Gomez just

a little extra gas $ for the Stren Series starting in June. Get'em fellas!!! Korn ROCKS!!! :)

What were you doing at age 14? How about fishn' with dad for $6000!!! The Maloney boys coming out to play, smilin' and wackn' out 53 other teams to make first outa the money with 9.44lbs! A Rodmaker's gear card return of $100! Gear him up dad- ladue is next Sat!!!! For more on Rodmaker's CLICK HERE! New for 2006 we are also giving that EXTRA push from a KIPAWA prop to the fisrt outa the money guys- checkout more on these revolutionary trolling motor designs- the lado guys already know!!!
Last but not least...the director's favorite- the bigbasses! Far left below, Bo Pieffer with'a Portage toad of 5.1 for $360- note the bicep flex and stare down into the mouth- he's caught these dudes before!!! Bottom right, the prettier half of the James Locke Jewelers team of Wayne Patterson and Mike Polosky! A second bigbass hold of a 4.79lbr for $240.

THANKS TO ALL 60 TEAMS FOR MAKING OUR FIRST EVENT EXCEPTIONALLY POSITIVE AND SUCCESSFUL. HUGE THANKS TO STRATOS AND SKEETER BOATS ALONG WITH VIC'S SPORTS CENTER ALL OF WHOM ARE OFFERING AWESOME OWNER CONTINGENCY BONUSES FOR EACH 2006 NOAA EVENT.

OUR NEW SINGLE HANDLING BASKET SYSTEM AND HARPERS BAGS ARE WORKING WELL AND ADDING TO OUR EFFORTS OF POST-TOURNAMENT MORTALITY REDUCTION. IT ALL STARTS WITH THE ANGLERS EFFORTS- REMEMBER ALWAYS, STRESS REDUCTION BY: GENTLE HANDLING, USING A CULL SYSTEM, USE WATER TREATMENTS & INCREASE OXYGEN BY: CONSTANT AERATION (NO TIMERS!),ICE DOWNS IF H20 OVER 75 DEGREES, SUBMERSE OUR HARPERS BAGS AT LINE TANKS!

NEXT EVENT IS FULL!!! MOSQUITO 4/29 NEW STATE PARK 6:30A-2:30P

REGISTER TODAY FOR THE LAST FOUR FBFP EVENTS OPEN IN 2006!!!!!