NORTHERN OPEN ANGLERS ASSOCIATION

MOSQUITO #2 6/19/04

Thiryfive teams of anglers reported for duty in search of a $3500 first place payday. Winds NW 10-20 kicking around the squiter shores after a super hot early morning bite during gentler seas. 140 fish for a total field weight of 219lbs ~ a 1.56lb per fish average ~ $7200 paid out!

So the story goes...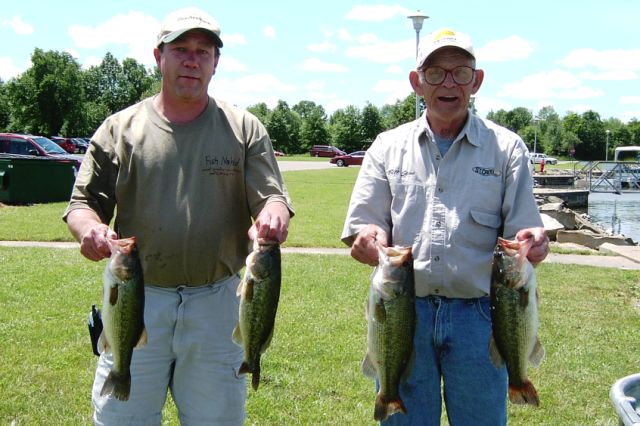 The team of Mike and Bill Stine with four of the limit for a total weight of 11.89. These guys knew how to play the NOAA game as they sent their entry early in the season chosing to fish just the two Mosquito events. How easy of a decision to fish against just 34 other teams, catch five fish in the first hour of the event and get paid back a 100% check of $3500~!!! Good show fellas, we'll see each other again I'm sure!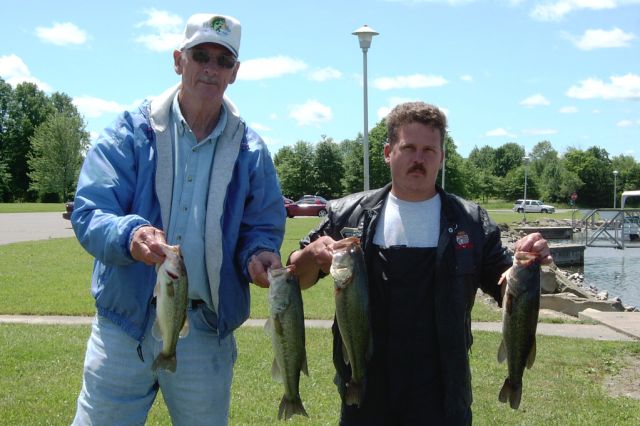 Jeff Wilson and Charlie Anderson less than a half pound behind with a limit at 11.41 lbs for second place and $1260. They put a third big bass of 3.48 in the sack for a $150 return in Loomis rods from Straightline Autobody.Starting the day a little rough as the director had to take away a number five draw due to a ramp pay, Anderson was still ready to swing it out in the afternoon! Once he got the check though, the bigbass look went away with a smile and a handshake! Nice bag guys~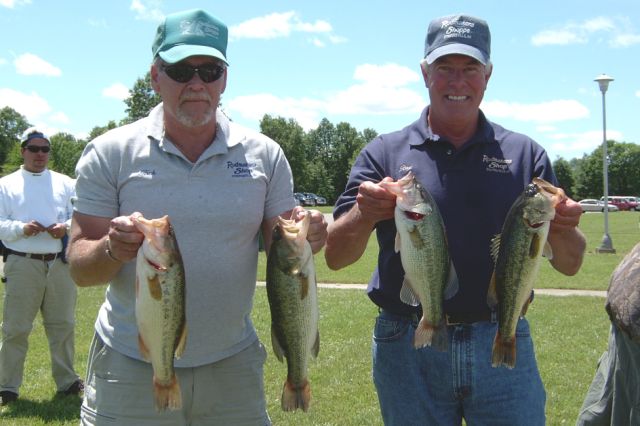 Third place to the guys behind the counter! Rich Snyder and Ray Halter with a clone bag of five for a total weight of 11.10lbs and $770. Rich was sportn' the big bass look but just one better bite behind for the big money. Someday your fish will come Rich! Much appreciation to you both for gearing us up at the Rodshop and helping make NOAA a 100% plus payout. 

Fourth place stepping into the ring with a 10.65lb limit and a 3.99 bigbass, Matt McElroy and Matt Robbins, for a total pay in two checks of $770. Not bad for a four spot and one bite! Have I ever explained how this series pays 100% of entries the day you fish!? Best of all though is what seems to follow with two checks, two bass grinin' smiles. Outstanding guys-click the pic for the bigbass look and a toad ---------->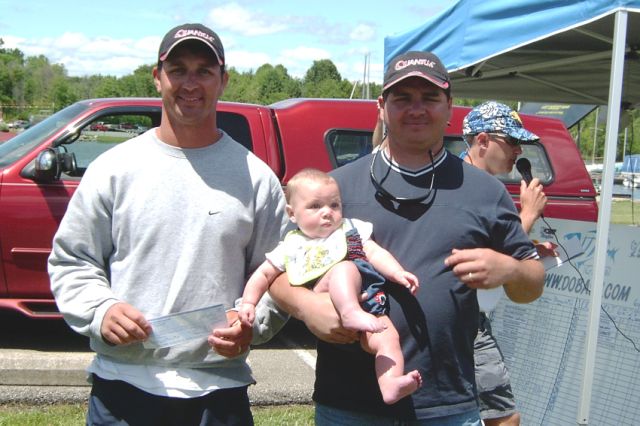 Who let these guys in! Nick and George Prvonozac with a fifth place smile and a keeper in the center.Nick brought along some Mosquito Thurday night winnings and signed in the pair at the ramp. George has been playin' daddy quite a bit this season , we are all hoping there are more on the way! Total weight with a limit at 9.77lbs turning $200 into $420. Wouldn't be an event at Squito without you- good show. 

Talk about not having an event at Mosquito... now it's complete with Tom and Ronnie Dixon making yet another money appearance. Maybe next year well make it to that elusive 60 team capped field. These guys are just holding out for the top spot when it pays 6k! A limit at 9.68 giving a return of $140. We'll see you next early spring fellas, thanks for being onboard in 04'.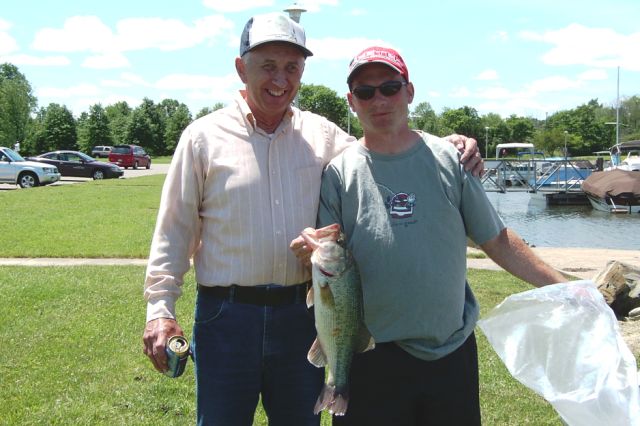 Art Knight holding a Rodmakers Shop return of $50 in gear for he and partner Tony Maglovsky with first outa the money and a limit of 9.66lbs. We are all just happy to see you stay in the boat today Art! I had the opportunity to watch this man hit every knee and elbow on the way into the drink on a chilly Portage event last fall ! Had there been a video nearby we coulda beat a 100% payout with the footage!!! See you Sept 11! Dry! 

Finally the Caulkin boys signing up for their one and only NOAA event. They musta had the vibe as one bite put a second big bass in the boat at 3.72lbs and a return of $140. This also making them the winners of the best smiles for the event award complete with at'a boy shoulder grab. Hope to have you back for one more in September and again in 2005!  

NEXT AND FINAL NOAA EVENT~ SEPTEMBER 11th AT 7:00AM PORTAGE LAKES- FULL FIELD PAYS $6000 TO FIRST! CAN WE DO IT??? IT'S A NO BRAINER GUYS! SEE YOU THERE!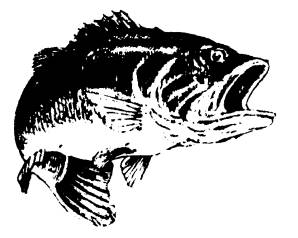 FOR COMPLETE MOSQUITO RESULTS FROM 6/19/04 CLICK THE BASS !!!

FOR COMPLETE MOSQUITO RESULTS FROM 6/19/04 CLICK THE BASS !!!

FBFP2004 ALL RIGHTS RESERVED