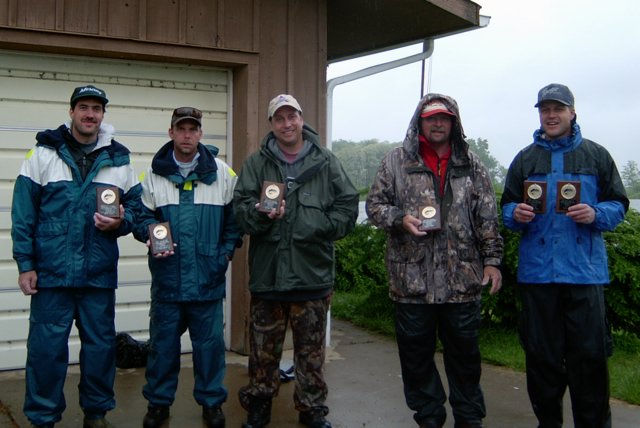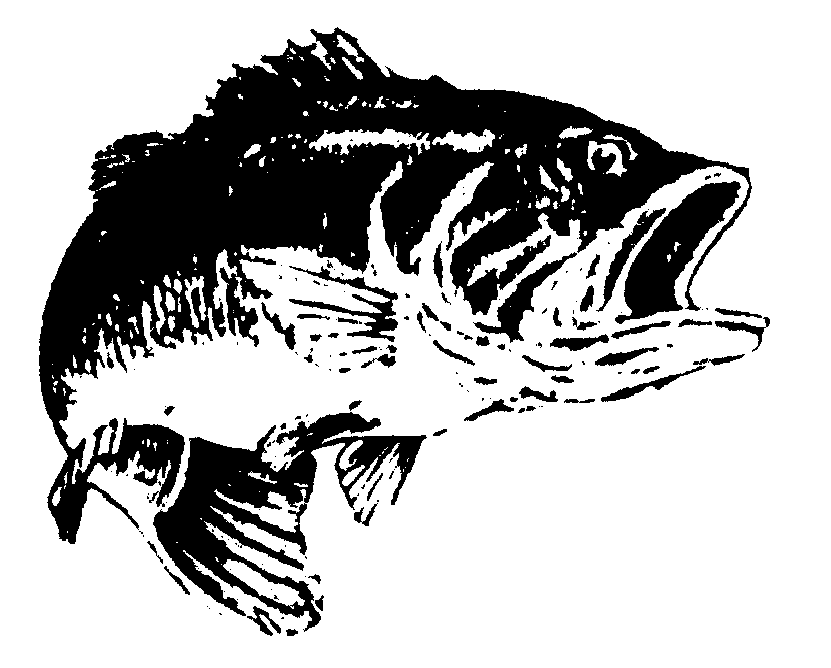 MOTHER LADO CRIED A MILLION TEARS AS AN UPPER LEVEL LOW FRONTAL SYSTEM SAT SPINNING ON THE HEADS OF 42 TEAMS. WINDS SHIFTING FROM A MERE EASTERNLY BREEZE IN THE MORNING,TO A 30 MPH STEADY NORTH BLOW THE REMAINDER OF THE DAY. WHITECAPPED WAVES, DRENCHING RAINS AND FRIGID TEMPS PRUNING THE SKIN ON 17 FISHLESS GROUPS OF ANGLERS. ONLY 75 OF MOTHER'S BEASTS CAME FROM THE LIFEGIVING RAINS WITH A SCANTY AVERAGE WEIGHT OF 1.99 LBS. FROM TOADS TO BUCKS TO "LIMITS", MOTHER'S SPRING CYCLE HAS COME FULL CIRCLE. OUR MOTHER LOVING A FEW WHILE MAKING SOME CRY, A    LIMIT TODAY KEPT THE POINTS RACE TIGHT AND SOME FEET DRY !  SO THE STORY                     GOES LIKE THIS...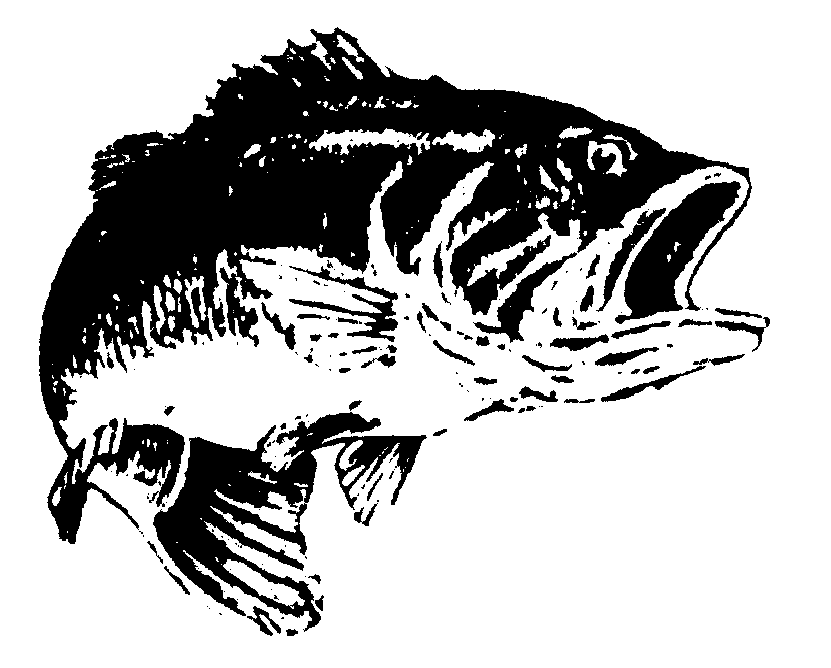 THE DO MAY 31st 2003 QUAL#3

FBFP2003 SPRING BASS SERIES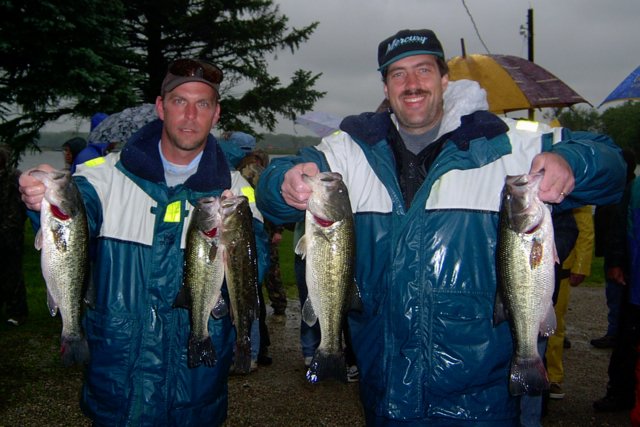 THE FIVE FISH LIMIT OF MARK SNAHNICAN AND BOB BALLI FOR A TOTAL WEIGHT OF 11.94 LBS SETTING THE STAGE FOR A FIRST PLACE WIN.  LOOK AT ALL THOSE UMBRELLAS AND DARK CLOUDS IN THE FOREGROUND! NOW LOOK AT THE SMILE ON BALLI AND YES, EVEN MARK MANAGING TO KINDA SMIRK ONE OUT! THESE TWO WERE DEFINATELY THE HAPPIEST ANGLERS IN THE INCLEMENT WEATHER. THIS TEAM REACTING TO THE RAINS BY JUMPING INTO THE ONE SPOT FOR THE POINTS RACE WITH 285 BY WORKING "BLADES" IN THE HIGH WATER GRASS.  GREAT FISHN' FELLAS,TOTAL PAY- $588.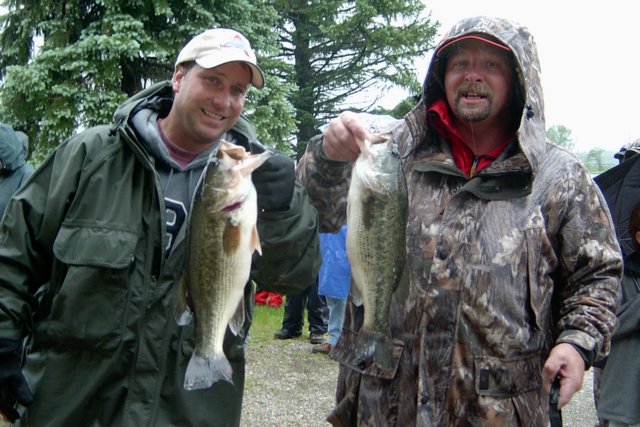 THE TEAM OF BOBBY SCHULTZ AND GREG MORRELL WITH TWO FISH FROM THEIR LIMIT TOTALING OUT AT 11.85 LBS. THE DUO CHASED THEIR ENEMY MOST OF THE DAY HANGING IN THERE THE FINAL HOUR AND PRODUCING FOUR OF THEIR BIGGEST FISH. HAVING TO "GO TO THE FISH" WAY BEHIND THE BANKS THEY LOST SEVERAL DURING THE FEEDING RUSH JUST MISSING OUT ON THE SMALL WEIGHT THAT SEPERATED THEM FROM THE ONE SPOT. JIGS, PERSISTANCE AND GREG COMING OUT OF A SLUMP HAS PUT THE TEAM JUST ONE POINT BEHIND THE LEADERS FOR 2003. SUPER FISHN' GUYS- LOOSE ANY RODS TODAY? TOTAL PAY $378.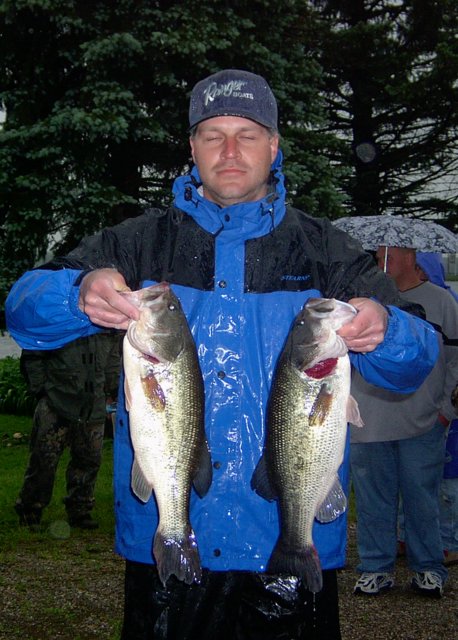 HEY JOE ENGLER! YOU CAN WAKE UP AND COME OUT OF RETIREMENT NOW. IT'S OVER BUDDY- AND YOU MADE A CHECK! JOE.... WAKE UP JOE... JOE STILL DREAMING ABOUT ONE MORE FISH TO MAKE HIS LIMIT! FOUR FISH AND JUST BEHIND THE FRONT TWO, WITH 11.73 AND A KICKER 4.62 FIRST BIG BASS. JOE TOSSED TUBES INTO BUSHES, JIGS ON THE FAR OUTSIDE EDGES AND THE ALMIGHTY SPINNERBAIT NEAR WOOD TO CAPTURE HIS CREATURES. THINK IT WASN'T UGLY OUT TODAY FOLKS, IMAGINE WHAT 42ND PLACE LOOKED LIKE! BACK IN FORM AND SEVENTH OVERALL JOE WOKE UP WHEN HE WAS HANDED TWO CHECKS FOR A TOTAL PAY OF $494.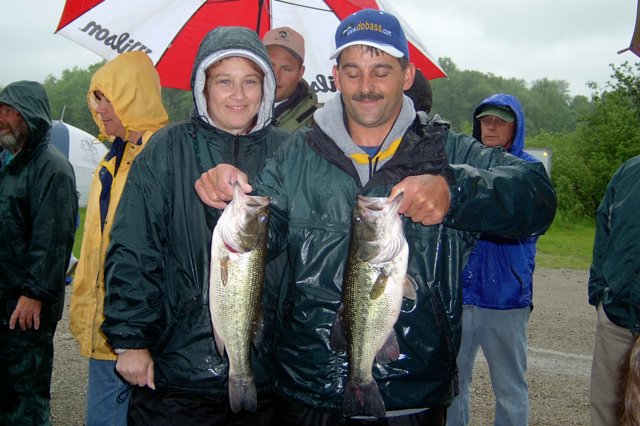 MORE CHECKS AND MORE SLEEPING ANGLERS! THE RAIN CAN PUT EVEN THE TOP SPOTS TO SLEEP! DANA JORDAN AND JOHNNY GIEL GETTING TIRED OF FREE HATS AND RODS AND COMING IN TODAY WITH A LIMIT FOR A FOURTH PLACE CHECK. THERES NOT MUCH MORE TO WIN FOR THIS TEAM EXCEPT OVER $1000 IN POINT CHAMP SPONSOR PRIZES. WITH THEIR 272 POINTS AND A THREE WAY TIE FOR FOURTH OVERALL, THEY VERY WELL COULD CLEAN HOUSE FOR 2003 AND WIN EVERYTHING THERE IS TO OFFER AT FBFP EVENTS! TOTAL WEIGHT 10.29LBS LEAVING THE COUPLE WITH $210 TODAY, TWO HATS AND A ROD FROM THE FIRST TWO EVENTS! GOOD SHOW !!!!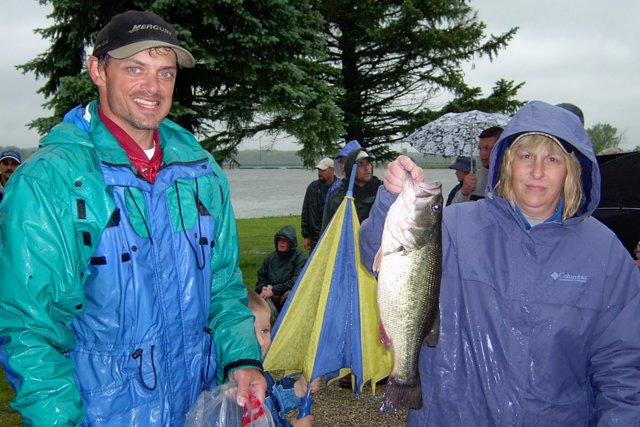 AS THE WEIGHTS GO DOWN THE LOOKS ARE GETTING CRAZIER! THE RAIN TODAY ALL BUT STOPPING ANOTHER HUSBAND WIFE TEAM OF MIKE AND CARRIE GIEL. THE SECOND BIG BASS AT 4.07 LBS CAUGHT BY CARRIE AND A LIMIT OF 9.13LBS ROUNDED OUT BY MIKE. THE PAIR TOSSING GREY- YES GREY- PLASTIC 7" WORMS TO WOOD. CARRIE HAVING NO PROBLEMS WITH THE HOOKSET AND MIKE GETTING A LITTLE EXCITED WITH THE NET JOB! HOPE YOU GUYS ARE ALL DRIED OUT NOW, LOOKS AS IF A CHAMPIONSHIP BIRTH IS NEAR WITH YOUR FINISH TODAY- TOTAL PAY $246.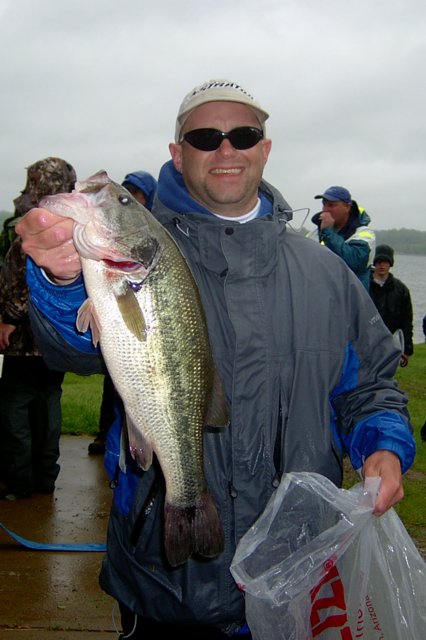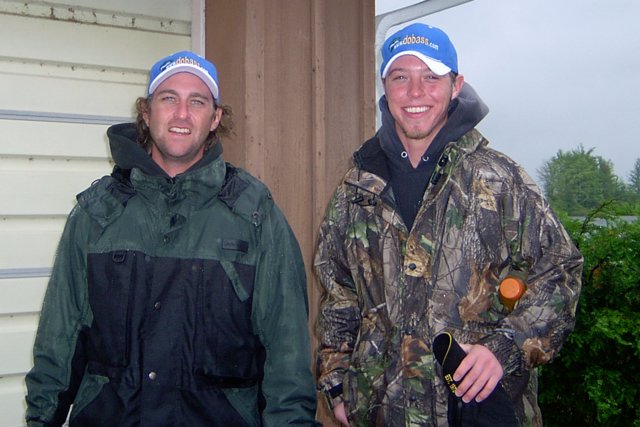 HEY, I MADE IT TO THE SHOW FOR 2003! TOURNAMENT DIRECTOR RORY FRANKS FINALLY PUTTING A LIMIT OF 8.87LBS ON THE SCALES ALONG WITH A THIRD BIG BASS AT 3.74 LBS. FINDING A PATTERN EARLY IN THE DAY IN THE BACK ENDS OF CATTAILS, 25-30 FISH CAME ABOARD RIGHT UP TO THE END OF THE EVENT. THE BIG MAGNUM ZOOM GOURD GREEN LIZARD ONLY ATTRACTING 7 FISH OVER 14" THOUGH! BARELY 14" AT THAT! NOW THIS IS MY BIG BASS LOOK COMPLETE WITH GRINDING TEETH AND WET SOCKS (SOCKS NOT PICTURED!). TOTAL PAY- $164.    

NOW WERE TALKIN'- SOME SERIOUS WET FISHERMEN LOOKS HERE! FROM LEFT TO RIGHT CHRIS MINICK AND KEVIN COERLIN "FIRST PLACE OUT OF THE MONEY" WITH A CLOSE 8.81 POUNDS. A COUPLE OF OFFICIAL DROWNED OUT DOBASS.COM HATS FROM NUTHREADZ FOR THEIR EFFORTS! TO THE RIGHT, DAVID DUPREE HOLDING A TITANIUM FIN-NOR ROD COMPLIMENTS OF RODMAKERS DRAWN FROM ANY TEAM OUT OF THE MONEY. GREAT JOB FELLAS' STICKN' OUT A TOUGH DAY! 

SO THERE WE HAVE IT. THINGS ARE CLOSER THAN EVER WITH ONLY 15 POINTS SEPERATING THE TOP TOP SEVEN ANGLERS! THE CHAMPIONSHIP POT AT $1480 !!! 15# POT FOR THE JUNE 21st EVENT STARTS AT $135! REMEMBER YOU HAVE TO HAVE PAID FOR THE 15# POT IN THE EVENT THAT THE TEAM WEIGHS THE CATCH TO BE ELIGIBLE. BETWEEN THE POINTS RACE, THE CARRYOVER AND HOPEFULLY UNUSUALLY NICE WEATHER BY THEN, THE NEXT EVENT SHOULD BE EXCITING. CURRENTLY THE TOP 26 TEAMS WOULD GO TO THE CHAMPIONSHIP AS WELL AS ANYONE WHO HAS FISHED ALL 5 EVENTS (THE OPEN AND 4 QUALIFIERS). WE HAD THREE TEAMS NOT PLACE THE "CHIP OF LIFE" IN THE DESIGNATED AREA TODAY- NO CHIP NO POINTS- DON'T LET IT HAPPEN TO YOU !!!! THANKS TO ALL WHO CAME OUT AND BRAVED THE WEATHER - THERE IS NO ENEMY!!!!