FBFP2003 "THE DO" SPRING BASS SERIES QUALIFIER #2 MAY 10th 2003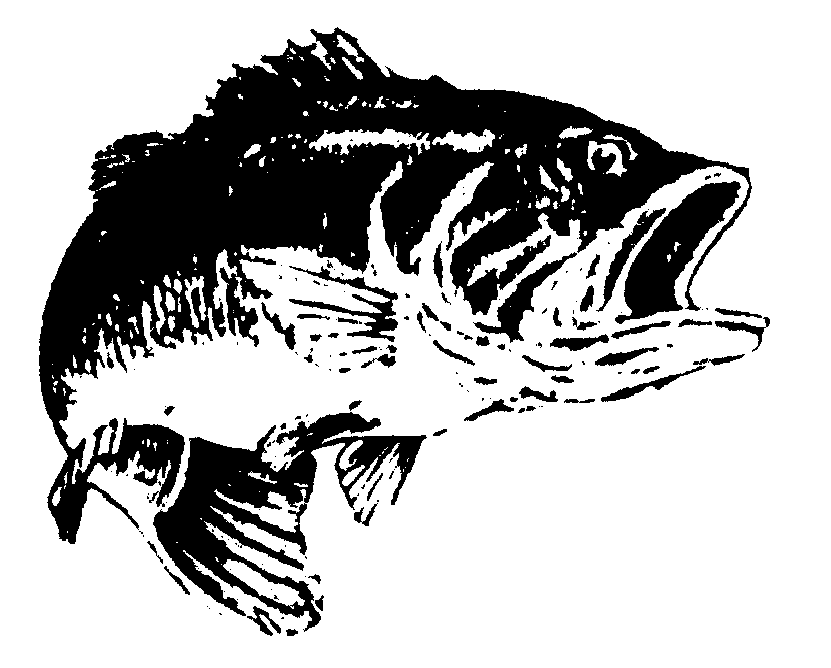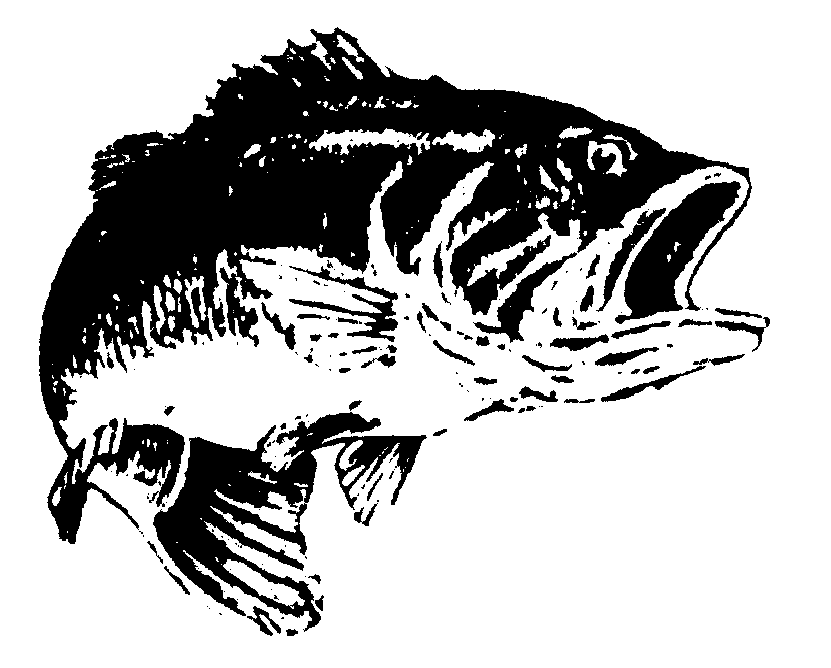 RAIN, RAIN... GO AWAY- OH MOTHER PLEASE, CAN WE GO OUT AND PLAY?

LIGHTNING LIT THE MORNING SKIES SOUNDING IN YET ANOTHER RAIN SOAKED FBFP EVENT. AFTER A 30 MINUTE DELAY, SW WINDS 5-10 PUSHED OUT POTENTIAL THREATS OF SEVERE WEATHER BY 9AM REVIVING THE SPIRITS OF NEARLY 100 TENACIOUS ANLGERS. THE EARLY FOG, SLOW CLOUDY SKIES AND HIGH, 60 DEGREE WATER SET A STAGE THAT ONLY 12 TEAMS DIDN'T BELIEVE IN. FROM APRIL "TOADS" TO MAY "BUCKS", THIS EVENT GOT SMALL FOR ALL WITH 87 FISH TOTALING OUT AT 177LBS.-  A MERE 2.03LB FIELD AVERAGE. SOME STEPPING UP, SOME FALLING DOWN THE DRAMA WITH POINTS HAS TURNED ALL AROUND. SO THE STORY GOES...           

.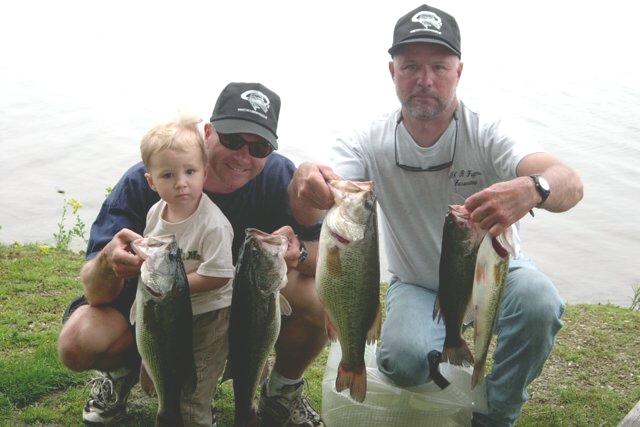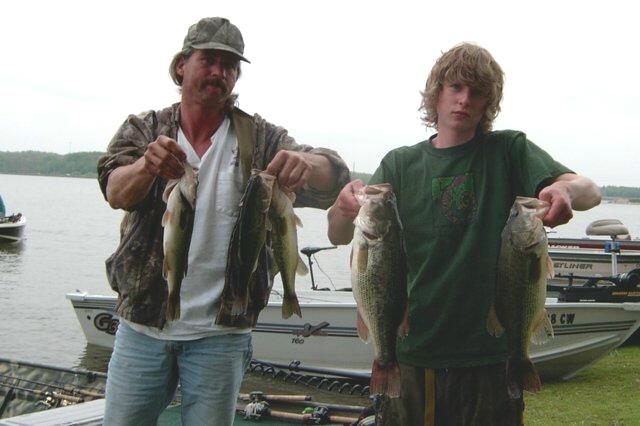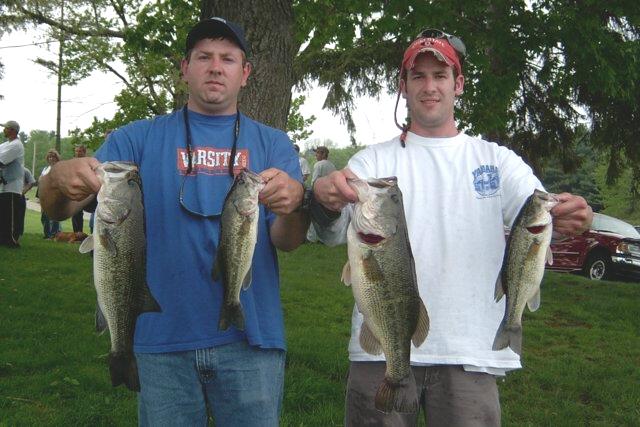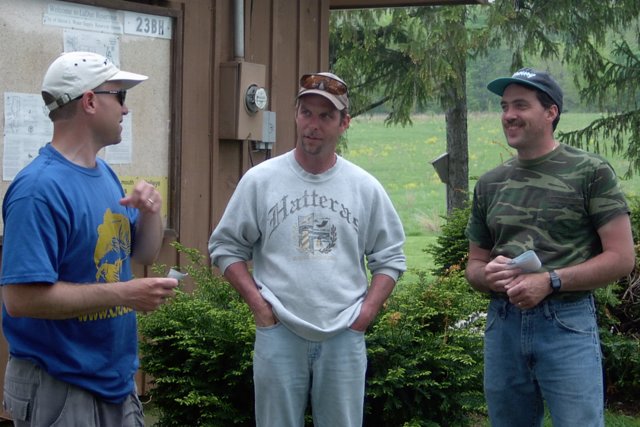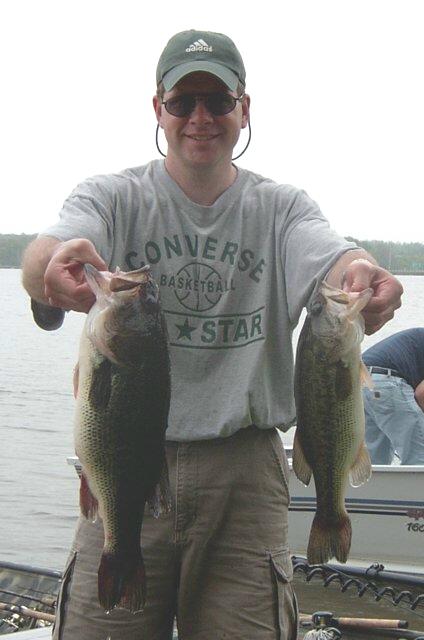 Three toads and two bucks to the first place team of Bill Metzger and Bob Smith making for 15.69 lbs. in their five fish. The 4.52, 3rd big bass finding her way to the boat with the second cast of a spinnerbait early on. The duo, sponsored by Youngstown Aluminum Products and Cobra baits, managed with a mixture of heavy jigs, buzzbaits and more spinnerbait action throughout the day to bring four more to the scales. A solid 9 spot  finish in the first event, backed with a $848 payday today, puting them 1st in the points race for two G.Loomis IMX rods coupled with Shimano superfree Curados! Again, notice the big bass look. Smith means business this year. Those big bass guys ALWAYS got that look! Those toads are about the same size as Bill's blonde headed buck! Terrific fishn' guys you're settn' the pace !!!   

Folks- here is the reason why I promote events. A father(old toad)/son(little buck) team new to the bass tournament scene. Jeff Galewood SR. & JR., marking a zero in event one , coming back with more knowledge, a desire and applying their newly acquired pitching techniques (taught by FBFP members) in the field with a 5 fish limit of 11.81 lbs. Their efforts sending a strong wave throughout anglers as Sr. disclosed that Jr. caught not just the five weighed- but six more during their first outing with some new dark colored jigs and plastic craws. Jr. obviously developing the big bass look early on! Impressive all the way buck. Most concerning was even seeing him picking up trash at the ramp after the event. Little buck is in tune fellas' and he's caring for Mother. I'll bet anything dad takes some of the $432 of their earnngs today and invests in some baitcast reels for next event! Applause to you both !!!!      

Third place going to the team of John Seman and Jeff(ery) Pelc. One fish shy of a limit, their 11.17 lbs turning mere buck boys into big toad men (Seman has the look too!). We have talked about the importance of one bite during the day, here's another prime example. Two fish up until the last 20 minutes of the event ,the team turned the second big toad of the day at 4.88lbs and another large fish as they returned to the ramp for weigh-in. Conversely- several other toad bites that most likely cost them the one spot came unbuttoned several times during the day. One bite putting them in the top three, one bite taking them out of first. Young bucks are known to get overly excited when toads are around. Be careful boys' with your $462 in winnings! Thanks for your continued help with the events!!!        

Check out these two bucks! The team of Mark Snahnican and Bob Balli taking fourth place with 5 fish for 9.18lbs. Mark has been previously noted with the big toad look in 2002, but today the pair ran from the camera as their nice buck bag was just missing the kicker fish! Little did they know this buck was watching! Another team utilizing the tacklebox pulling out jigs, spinnerbiats and buzzbaits throughout the day stretching a limit, finding them $240 richer and tied for second place in the points race. Great show guys- back it up with a toad and I know you'll be posing next event!!! Good show! 

Another team making the top spots and tried to buck out on me! I have an outstanding photographer this year, getting pics even if you don't want them. The husband/wife team of Mike and Carrie Giel making 5 bucks jump onto their buzzbaits for a total weight of just 8.71 lbs. Not to undermine a fine bag by any means, the fifth spot paying $144, but a limit bag at our Mother not hitting a 2lb avg. mark is almost unheard of. Where are those toads!!!! Mike just making sure I wrote the check correctly!!!

Now were talkn'! Toads... finally!!! The buck team of Dean Rahas and Mike Zimmerman combining their efforts for two leftover toad bites putting the rest of the 42 teams in envy. The big toad of the day too, at 5.41lbs for a total weight of 7.78. Two fish in each event now puts this team all the way into the top ten for points! Two bites today equating to $306. Put three bucks with those sowbellies and you're into plaques then. Great fishn'- very happy to have you with us for 2003.

From left to right, the solo angler from the team of Plotner/Plotner finding some kickbacks to a buckless day courtesy of Rodmakers Shop. He won the new IM6 Fin-nor rod for just showing up and falling out of the money. Congrats! The other crew may look a little familiar- the team of Dana Jordan and Johnny Giel just missing a check at 7th place. NuThreadz providing some reconciliation with two "official" DOBASS.COM hats. Watch this buck Dana , he may try to take your hat! You guys have already won all the giveaways for 2003 time for a check!

CHAMPIONSHIP PURSE AT $1060!!!

NEXT EVENT MAY 31ST!!!

NEW MEMBERS ACCEPTED AFTER 6:21AM A FULL FIELD IS PAID FOR 2003!!!!