FBFP2002 MARCH 30th SPRING BASS OPEN

WINNERS PICS AND STORY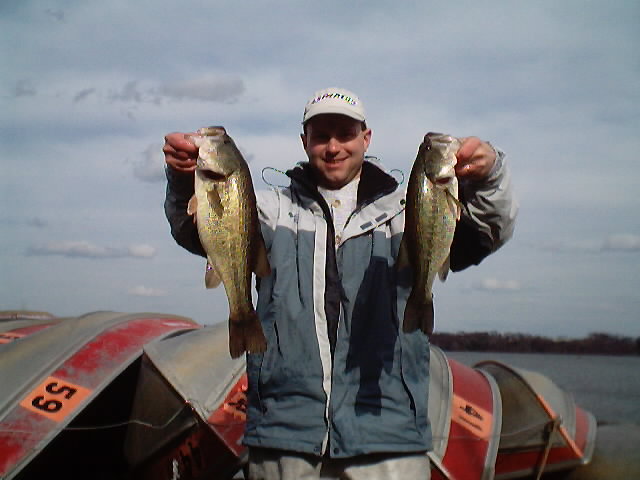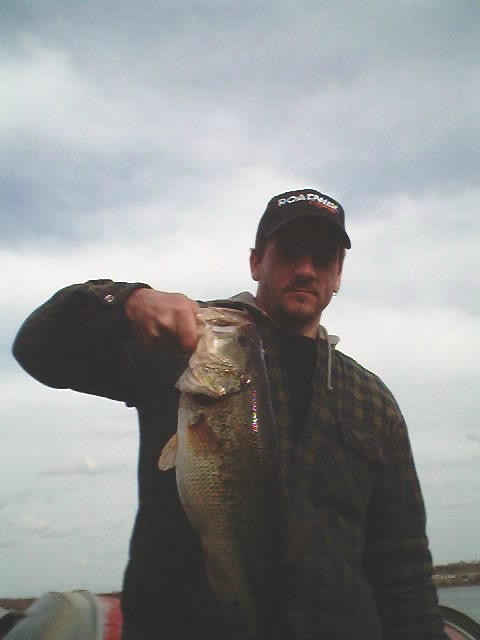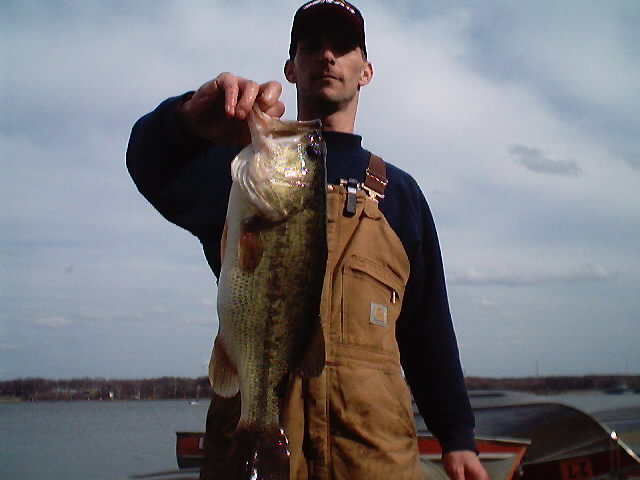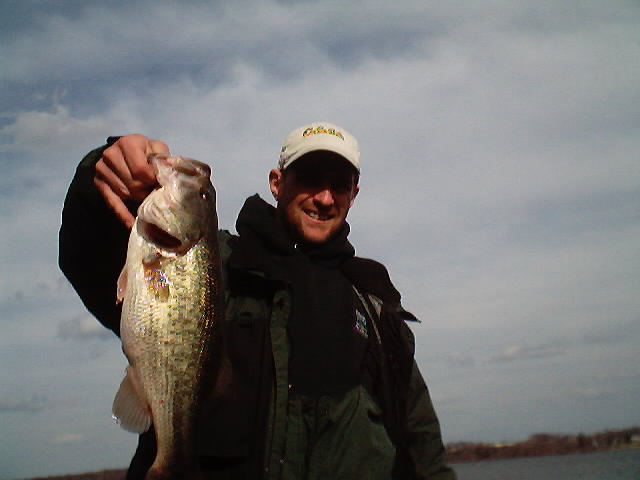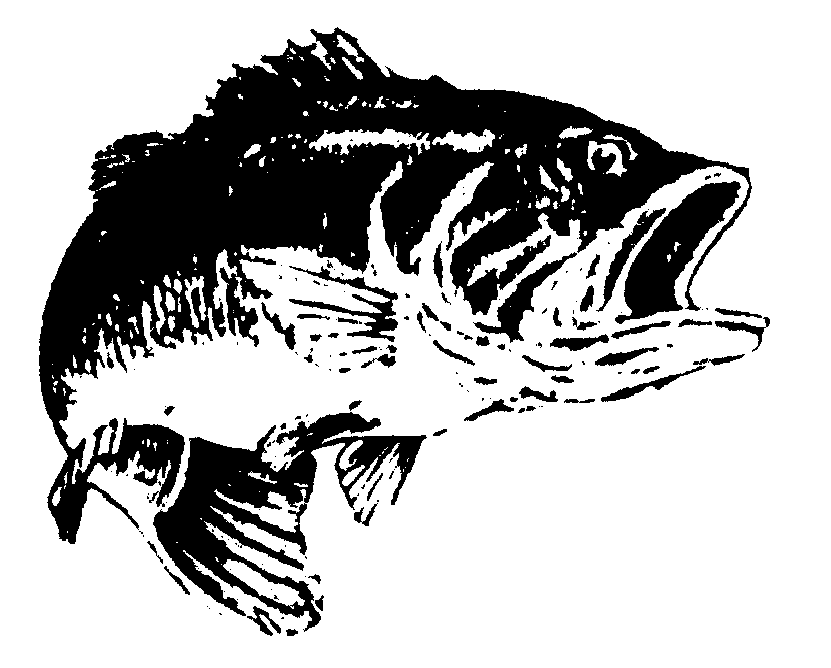 WELL ... WHAT CAN I SAY... BOTH FINS IN MY MOUTH WITH IT WIDE OPEN. SO MUCH FOR THE WHOPPING SACK OF FISH PREDICTED TO WIN. AS A MATTER OF FACT OUT OF THE 31 BRAVE TEAMS TO SHOW UP ON TIME (UNLIKE THE COORDINATOR!), WE COULDN'T EVEN GIVE AWAY THE MONEY FOR 6TH PLACE !!!  SKUNKS RULED OUT 26 TEAMS AND A SINGLE BITE OF A 14" FISH CASHED A CHECK. WINDS GENTLY FROM THE SE IN THE MORNING INCREASING TO 10-20 FROM SW -W BY THE END OF THE DAY. FRIGID WATER TEMPS IN LOW 40'S KEPT FISH LOCKJAWED AND FINGERS NUMB. THE UPSIDE TO ALL OF THIS WILL BE THE INVASION OF SPAWNERS RIGHT ON TIME "PRESUMABLY" THE THIRD WEEK OF APRIL OR SO - JUST IN TIME FOR THE NEXT EVENT APRIL 20 !!! IF YOU BLANKED TRY TO LEARN A LITTLE FROM IT AND MOVE ON ... NO POINTS FOR THE OPEN SO ALL TEAMS REMAIN IN CONTENTION FOR A LIKELY $2000 CHAMPIONSHIP PURSE IN JUNE. THAT FIGURE IS BASED ONLY ON 30 TEAMS PER EVENT !!!!!!!!!!!!!!!!!!!! HERE'S HOW THE  5 TEAMS GOT BIT....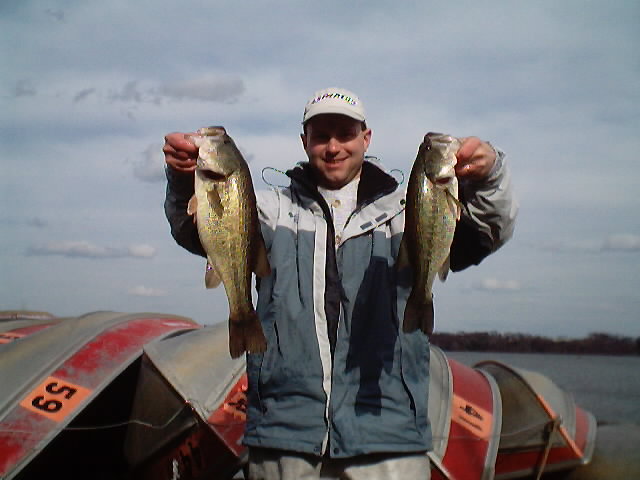 "ROCKS MAN, RIPRAP, THATS ALL IM FISHN'"

"IT'LL TAKE 18 LBS TO WIN TODAY"

"I'LL BE THERE ABOUT 5:30"

SHOWING UP AT EXACTLY 7:20 AM REGISTRATION CUTOFF TIME, RORY FRANKS SHOWING OFF 2 FISH THAT PAID $310 EACH FOR A TOTAL OF $620 FOR FIRST! BOTH FISH DRILLING A GOURD GREEN LIZARD OUT OF WOOD FOR A TOTAL WEIGHT OF 5.39 LBS. AND TO THINK YOU GUYS ACTUALLY BELIEVE ME WHEN I SAY THINGS. FOR THE RECORD FBFP OFFICIAL DAVE MORRIS CHECKED MY LIVEWELL IN THE MORNING !!!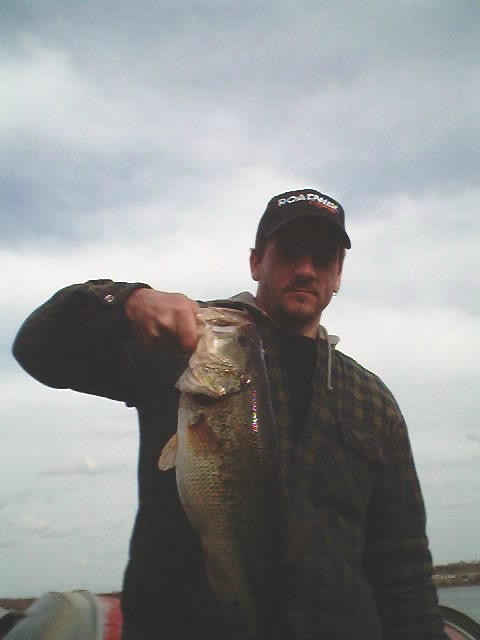 SECOND PLACE WITH ONE BIG OLD BASS AT 5.32LBS WAS THE TEAM OF MOORE AND MINARD. STICKING WITH IT, THE BEAST CAME OFF RIPRAP (SEE "ROCKS MAN") AROUND NOON ON A TUBE JIG AND 8LB TEST LINE. ANOTHER DARING TEAM WITHOUT A NET! NOTHING LIKE LANDING A FISH ON LIGHT LINE IN 20MPH WINDS IN A 14FT ALUM BOAT BANGING INTO THE ROCKS. OUTSTANDING JOB GUYS- FIRST TOURNAMENT TOO! ONE BITE = $372 SECOND AND $95 FOR FIRST BIG BASS.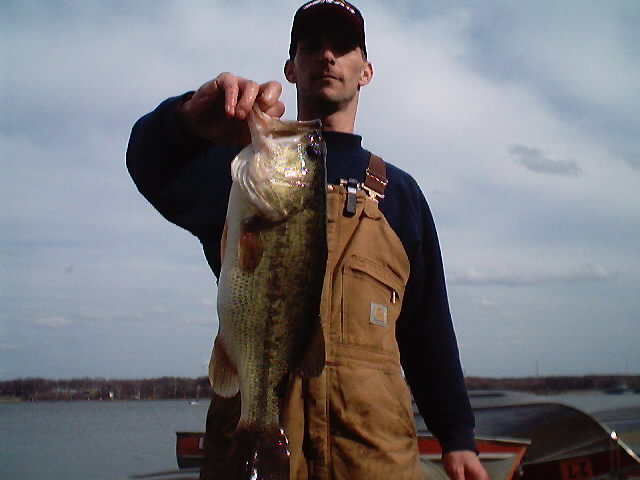 FOR THIRD PLACE ANOTHER "ROCK" FISHERMAN TURNED TO WOOD IN THE LAST TWO HOURS OF COMPETITION AND HIT A 4.74LB TOAD ON A BLACK&BLUE JIG. THAT WAS BLACK UP FRONT RIGHT - BLUE IN THE BACK AND WHATS THAT...? PEANUT WHAT??? FOR REAL??? BO GIEL ALMOST SETTING HIMSELF UP FOR A BLANK AFTER DISMISSING HIS LONG TIME PARTNER. HEARD SOME REGRETS AFTER NEEDING A NET JOB ON A "7 LBR"!!!  PAYOUT FOR ANOTHER SINGLE BITE - $248 AND $57 2ND BIG BASS ! SEE YOU AND MINICK IN APRIL !!!!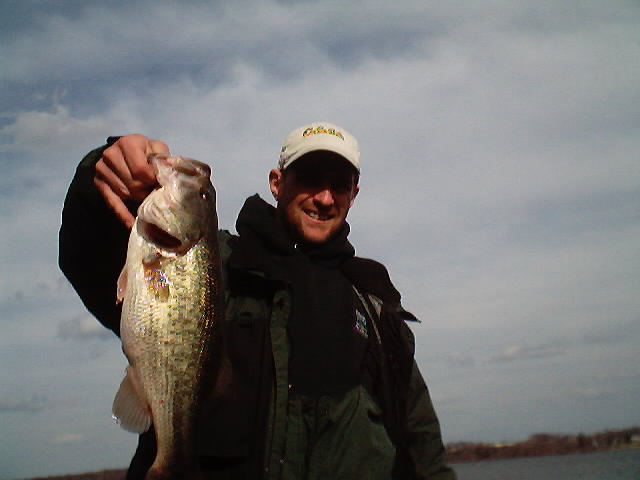 THE OTHER HALF WITH YES, ANOTHER BLACK AND BLUE JIG FISH . YOU GUYS MAY NOT HAVE BEEN FISHN' TOGETHER BUT YOU SURE KEEP YOUR STORIES STRAIGHT. CHRIS MINICK TEAMED UP WITH ED LEWALK TO PRESENT A NICE 3.41 LB LARGEMOUTH. CHRIS HIT THIS FISH AT 8:30 AM, MOST LIKELY THE ONLY BASS IN 1500 ACRES EATING BREAKFAST. TOTAL PAY FOR A MORNING WAKEUP - $193 WHICH INCLUDES A $38 3RD BIG BASS. .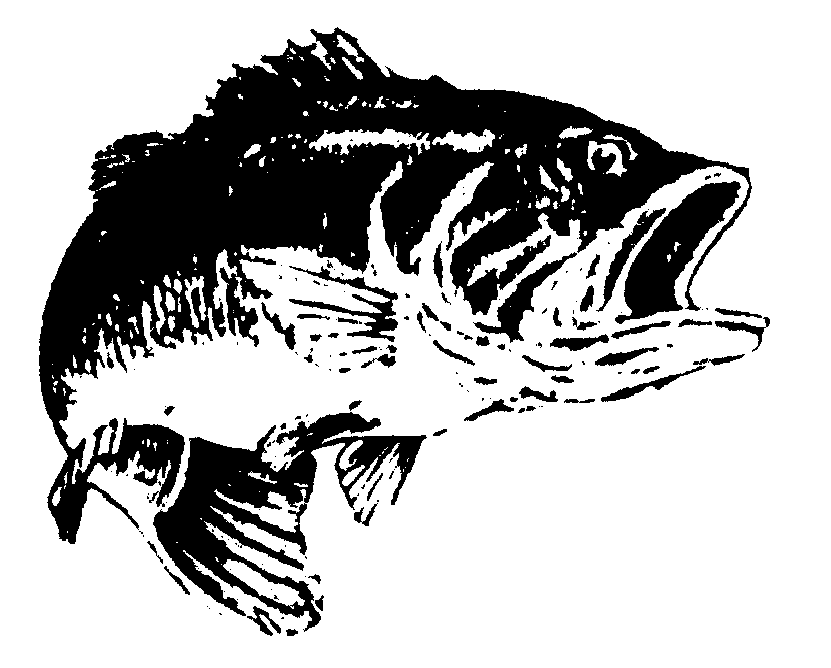 FIFTH PLACE THE TEAM OF PERONEK AND CHUEY WELCOMED THEIR WAY INTO FBFP WITH A 14" FISH AT 1.55LBS - RIGHT ON THE MONEY 14" PAID THE TWO $93. AFTER ENTRY, BIG BASS FEE, AND A FISHING LICENCE APIECE, THEY EACH TOOK THEIR DOLLAR WAVING IT BEFORE 52 OTHER COLD, BITTER AND DISGUSTED PARTICIPANTS. SORRY NO PIC GUYS - I'M SURE THERE WILL BE MORE PHOTO OPS' FROM YOU IN THE NEXT FOUR QUALIFIERS! GREAT JOB!!!! .

SIXTH PLACE WENT TO THE OTHER 26 TEAMS WHO DECIDED TO SHOW AND MOST OF WHOM LAID WITH IT ALL DAY AS WELL. THE $62 WAS VOTED TO BE CARRIED INTO THE CHAMPIONSHIP POOL BY REMAINING PARTICIPANTS. AS FOR THE 13# POT IT STANDS AT $60 CARRYING OVER TO QUALIFIER #1 ON APRIL 20TH. REMEMBER, THE POT IS ONLY ELIGIBLE FOR TEAMS PAYING THE FEE THE DAY THE 13#'S OR MORE WAS CAUGHT. STATS FROM THE OPEN WILL NOT BE SENT TO PARTICIPANTS VIA MAIL- AS THERE AREN'T ANY!!! MANY TEAMS ARE PAID FOR MEMBERSHIP AND DID NOT FISH THE MARCH OPEN - IF YOU HAVEN'T DONE SO, MAIL ENTRY TODAY OR RISK GETTING SHUT OUT- ONCE 50 PAID MEMBERS ARE MET, THEY HAVE PRIORITY TO FISH QUALIFYING EVENTS! DESPITE THE COLD- NO BITE AND AN UNTIMELY DIRECTOR I WAS AGAIN IMPRESSED WITH ALL THE NEW FACES AND THE SMILES THAT CONTINUED FROM LAST YEARS PARTICIPANTS.  MANY THANKS TO JEFF PELC, JOHN SEMAN, KEN BEAGUE, MIKE BONDARENKA,TODD JOHNSON, WAYNE CORBIT AND DAVID MORRIS FOR ESSENTIALLY RUNNING THE SHOW AS I SLEPT, EVEN IN THE AFTERNOON! I'LL GET YOU AN FBFP T-SHIRT HOW'S THAT??? OK- NEVERMIND!