THE SECOND ANNUAL FALL BASS OPEN EVENT RESULTED IN 15 TEAMS COMING TO THE PROVING GROUNDS  PRODUCING 42 FISH FOR A TOTAL OF 100.98LBS. ANOTHER IMPRESSIVE AVERAGE FIELD WEIGHT OF 2.4LBS PER FISH. ALL DAY GREY IN THE SKY WITH SOFT WINDS SHIFTING FROM THE EAST TO 5-10 SOUTH BY MIDDAY. AIR TEMPS NEAR EVEN WITH THE WATER IN THE LOW 60'S. ONLY 4 TEAMS WERE SENT HOME BY MOTHER -  JUST ONE ALLOWED TO STAY OUT AND PLAY.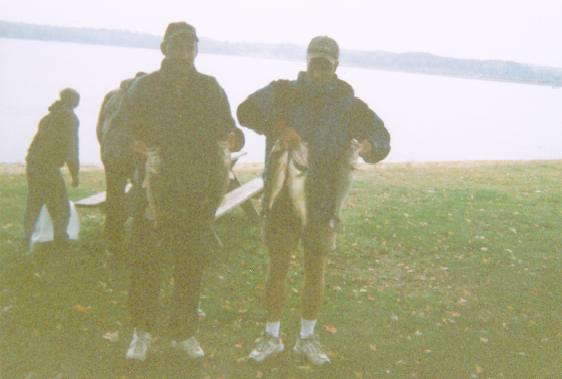 Matt Burns and Gus Grownowski made their long awaited front stage appearance with 5 of Mother's best for exactly 17lbs. After hanging over twenty fish today, the two have now officially put their walleye days behind them and are genuine bassers heart and soul. Their success found in removing the enemy , time on the water and deep diving crankbaits on Mother's deep ledges. Listen, learn and practice practice practice. The two exemplify what this series is all about. Now if they would just stay off my humps and give me back my crankbaits ! Outstanding fishn' fellas' - total pay with 2nd big bass and 13# pot $405!!!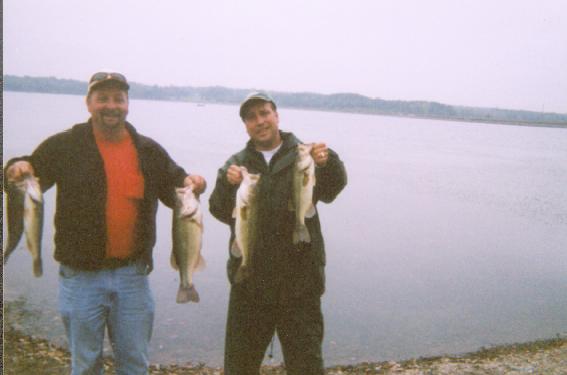 They're back ! The team of Morrell and Schultz buzzing their way into the second seed with 5 fish for 13.20lbs. The pair came out to have fun and fish - that's when they are most dangerous- no enemy here. Working a "Frank Scalish Rippler Buzzbait" all day the action never stopped. Focusing on small cuts inside of drawdown banks the unique noise of Bobby's special bait led to  culling out a couple of smaller fish and ringing the kicker bell with a 4.56 big bass. Total pay $270.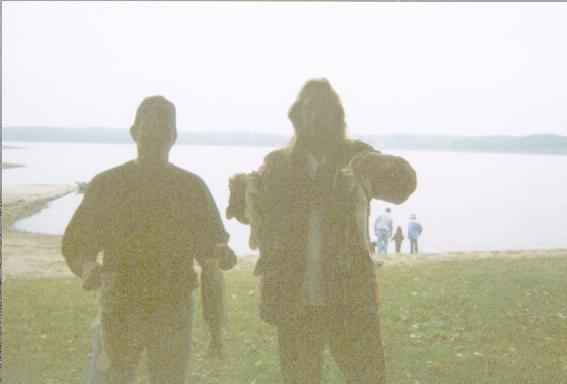 Two newcomers have once again broken into the top ranks. The team of Karns and Efferson making a stand with a 5 fish limit hitting 9.9lbs. A little reluctant at first to come clean with their information on how, what, and where, they managed to squeak out a story about jigs and jerbaits! Welcome guys ! The winning bags gotta tell all or lie a little! Better look out for them as I also saw some pics after the show of a handful of 7-8lb fish they took out of Mogadore this year! Looking forward to having you in 2003 - total pay $135.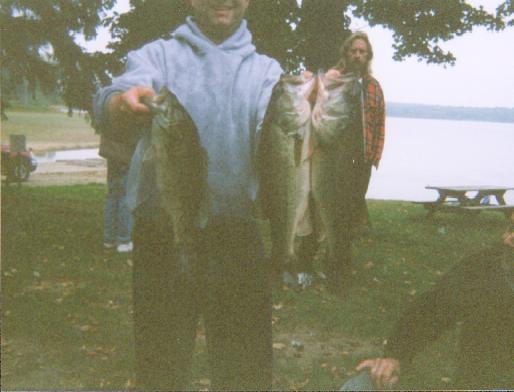 Fourth place to a very happy tournament director. What a learning experience and great success 2002 has been. To cap off my year weighing one of Mother's smallies as part of my 4 fish bag for 9.84lbs. A pay of $90. All my fish from rip rap both skinny and deep on great big MAX tubes. As discussed at the weigh-in, I look forward to serving the angler in 2003 so long as you can smile, shut up and fish. Have you seen the enemy ?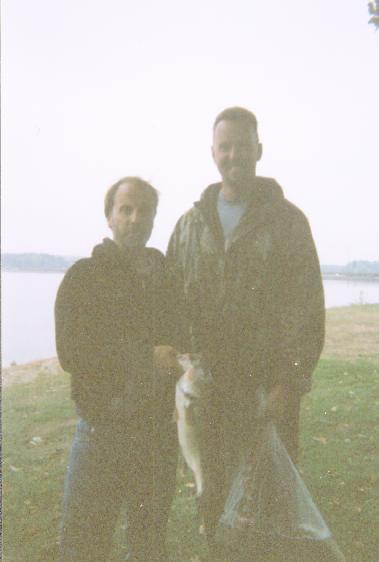 Rounding out the last check was the team of Cobb and Morris. 3rd big bass at 4.2lbs resulted in a $30 return. This team set the example in 2002 for the importance of one bite. The Championship offered an "optional" big bass pool that they voted against. One fish over 5lbs later and $240 swam away . They played to win today despite the mandatory big bass pot! Good job guys thanks for the help. Notice the big bass look on Cobb- those guys always got that face!

Welp - there we have it. A total and complete close to FBFP2002 LaDue Reservoir Bass Series. Keep checking back throughout the winter for updates about the transition from Akron to the State , 2003 schedule , other NE Ohio tournament schedules, and hopeful plans for event sponsorship to add to the payouts & championship next year. I still have not received pics for June 15th and have nearly fogotton the story! It'll get it up there some day. My apologies to those who fished hard all year and pics didn't appear for whatever reasons. Priority for 2003 will be placed on having more help for such things as pics, not to mention a working camera ! Electric only bassn' and LaDue weights are making a mark these past two years - 40 to 50 boats would not surprise me in 2003, pass along the GOOD word!  RF